I love my little corner of the Internet.
I love that even though I haven't posted in … let's see … drop the 6, carry the 1 … HOLY SHIT CHECK THE EDGE OF THE EARTH, SHE PROBABLY FELL OFF, people still pop in here to see if I've done anything to embarrass my kids (see below), named any cold sores lately (there was Margo – I kicked her ass last November, but not before she kicked my lips' ass for a few weeks before that) and whether I've managed yet to sculpt a reasonable facsimile of Mt. Vesuvius out of Ollie's poop (a few more deposits behind the couch and I should be good to go).
Let's see … what's been going on?
Zoe has been accepted to five out of seven colleges so far, including Geneseo. I think Geneseo wanted her because of my essay. Zoe thinks they wanted her because of her grades, leadership potential, blah blah freaking blah. Way to make it all about YOU, Zoe.
We put our house up for sale. I think God decided to stop using my life as an enema bag for a bit and give me a break because within 48 hours, I had four offers. All four were non-contingent, two were all cash and one was above purchase price, accompanied by a letter and family photo. I stared at that photo and studied their faces and the toothy smile of their little girl and as I signed on the bottom line through a stream of tears, I hoped my home would bring them more happiness than it ever did us.
We move this weekend. At first, it was hard to think about leaving a large, beautiful home that had my heart and soul plastered all over it and through it for a small, nondescript, bland apartment but now? I think we might be a bit excited. It may be small, but this apartment will be a fresh, new start for the girls and me. No bitter memories slapping us with a harsh reality everywhere we turn. I'd like to believe that new memories are just waiting around some tight-fitting corners for us to discover.
I ran into my eleven year old's hottie teacher at Target the other day. This would be the same hottie teacher we ran into while bra shopping for her, when she spent the following week hoping the earth would open up and swallow her whole. I texted her all about my new run-in because that's the kind of mom I am: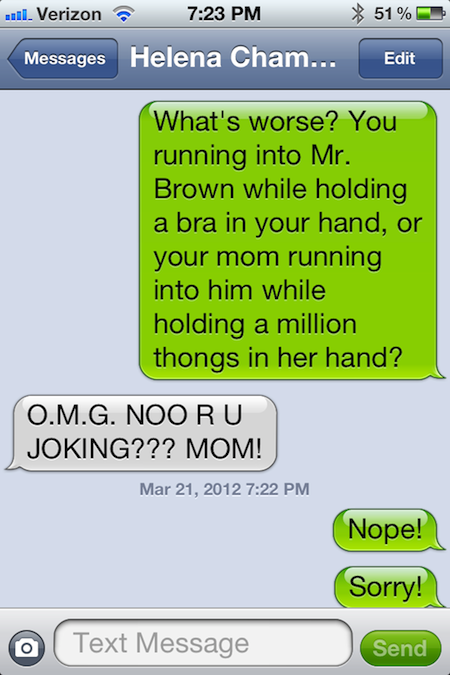 Life these past few months has been challenging. The loss of my husband has been agonizing enough but the loss of those so dear to me who, for whatever reason, could not find it within themselves to stand behind us with both feet planted firmly on the ground has compounded that agony. The loss has just been unfathomable. But you know that saying about God never closing a door without opening a window? Never have I believed in that as much as I do now.
Open windows have come in the form of a good job with a boss who is a trusted friend and confidante.
A friend, to whom I was married in a former life, who finished unfinished bathrooms and without whom I could not have sold our house.
An entire family who opened up their home to the three of us and became a safe haven for Helena, as well as a reminder that family isn't always defined by blood.
Lifelong friends who call like clockwork, checking up on me and buying me greasy potato skins because nothing soothes a wounded soul like fat and cholesterol.
Friends of my eldest who spent hours filling up trucks and finding willing dumpsters.
Another friend who tirelessly but beautifully staged my house so that it sold within days instead of months.
Friends who drove over to my house with three seconds of notice, bringing with them broad, water-proof shoulders.
Others who offered to sit with me at court or, in the alternative, text me during the entire time and make me laugh so that I forgot the awfulness all around me.
A lawyer who texts me late on a Saturday night after a particularly hideous and scary day, without charging me for it.
Online friends who prove that the Internet isn't so vast and impersonal after all.
And still other friends who find you after thirty years and help you haul fifteen years of crap out your basement without expecting anything in return.
In this big cyclone of shit that has been swirling around us since last summer, I have found rays of light poking through.
I'm still scared of this new life. But somewhere in the back of my mind, a little to the left of Anderson Cooper's imprint, is the knowledge that we're going to be OK.
.
.