We signed Helena, our nine year old, up for martial arts last week.
For the past five years, since she was four, Helena has been taking gymnastics but I never enrolled her in competitive gymnastics because (1) we never won the lottery; (2) we didn't have an extra twenty hours a week lying around the house; and (3) I didn't want to move to another state for training in order to follow some delusional Olympic dream because I just got my master bathroom remodeled and do you have any idea how long I waited for a slate tile shower with recessed soap and shampoo niches and my very own towel bar?
She started out in one gymnastics facility where the emphasis was on fun instead of competition and that was all well and good for awhile until the day she landed her first cartwheel and I looked through our check book and discovered it was the most expensive cartwheel in the history of ever.
I asked her coaches to push her a bit because Helena is sorely lacking the gut instinct  to do anything more than the bare minimum requested of her. This is why, when she's told to clear the dishes, the dirty plates make it to the sink but the dirty napkins remain on the table, along with the rogue noodles and the occasional mashed potato. It's also why all of her dresser drawers are overflowing with clothes that are jammed, crammed and slammed into them and why I found two months worth of jammies under her bed, right next to her socks. I need to remember to tell her to put her clothes away neatly and where they belong, rather than simply shouting FOR GOD'S SAKE, ARE THESE CLOTHES SUPER GLUED TO YOUR BED? PUT THEM AWAY.
The coaches pushed her a bit and all was well and good again until the day she attempted a back handspring for the 189th time. That's when I realized that if she continued to progress at that pace, we were on course to spend the equivalent of a zipper-challenged politician's annual SHASBOT budget (Skanky Hookers are Small Business Owners Too) before Helena mastered this particular skill. Unless the politician was pretty prolific with a lifetime supply of Viagra, we were going to quickly run out of funds, leaving Helena with the ability to fling her body in the air but lacking the technique to land it without breaking a few dozen vertebrae.
We found another gymnastics center and I was immediately impressed by the head coach, not because of the muscles jutting out from under his shirt or the obvious twelve-pack cemented onto his stomach but because the instant he opened his mouth, all these weird guttural sounds coated with a thick, heavy accent came flying out of it. They might have been actual words or he might have been choking on a slab of meat, I didn't care. All I knew was that he was a foreign coach which is like an Olympic prerequisite or something and this pretty much guaranteed a back handspring in Helena's immediate future. Oh, and all the little girls flipping backwards and forwards and catapulting themselves through the air all around me didn't hurt either.
I wrote a check right there on the spot and as I handed it over to the head coach, I told him that I simply wanted Helena to learn a higher level of skill and have fun and by the way, would he mind terribly if I groped his arms and stomach for a second and moaned a little? I don't think I said that last part out loud. As for the first part, I spoke slowly and deliberately and loudly and used lots of hand movements and a power point presentation and hoped he understood. He took my check, shook my hand, walked all of his manly muscles back into his office in what had to be slow motion which gave me a thrill like you would not believe and I think I may have had an outer body experience and then I never saw him or his muscles again.
I did, however, see lots of other coaches and Helena happily attended her weekly class and I happily sat there week after week and watched her work on her back handspring and after a few months, I realized that the learning curve, so impressive at the beginning when Helena learned more in one month than she had the entire previous year, had gradually deflated until it basically flatlined. I don't know for certain what precipitated this decline but I'm thinking the fact that I had informed the coaches that Helena would not be participating in competitive gymnastics had something to do with it. I had no choice because (1) we still had not won the damn lottery; (2) we still didn't have four nights free a week to dedicate to a sport that Helena liked and was good at but didn't love and wasn't spectacular at; and (3) have you seen my niches? They're pretty awesome.
Helena finished out the year and we elected not to continue with gymnastics because the coaches seemed reluctant to spend quality time with students who were obviously not going to be crossing the pond anytime soon, least of all for the 2012 games. And besides, even if Nate were to prove that his subscription to the NY Lottery was not, as I was thoroughly convinced, a colossal waste of time and money, and even if a freak tornado flattened our house and shattered my beautiful new slate tile shower with two, count 'em, TWO niches to hold all my soaps and shampoos, and even if Helena one day woke up blond and answered to the name of Shawn Johnson, she had, according to the coaches, already aged out of competitive gymnastics. At the ripe old age of nine.
So we signed her up for martial arts last week and today is her first class. By its end, she should be capable of killing someone using only her thumbs.
At least, that's what I'm telling her older and somewhat antagonistic sister. Contrary to popular belief, fear and intimidation are good things and whoever says they aren't obviously isn't raising two daughters in a house with only one computer, one TV and one bathroom between the two of them.
In martial arts, she's supposed to learn strength, respect, self-discipline and self-control.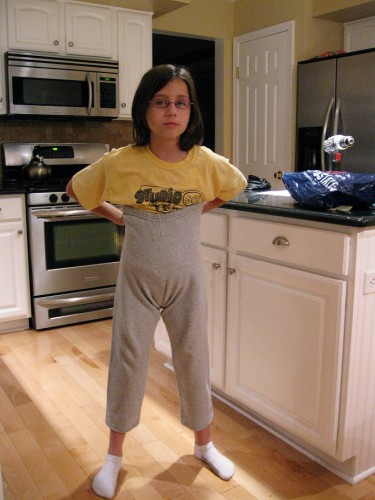 Here's hoping a little fashion sense comes along for the ride.
.
.