You know how it is when you're petite, savvy, unbearably cute and disgustingly talented? With great fashion sense?
Me neither.
I used to be petite and unbearably cute but then they took my umbilical cord away, slapped a diaper on me and it all went downhill from there.
And I don't think I've ever been savvy, unless it was by accident.
But you know who is petite, savvy, unbearably cute and disgustingly talented with great fashion sense?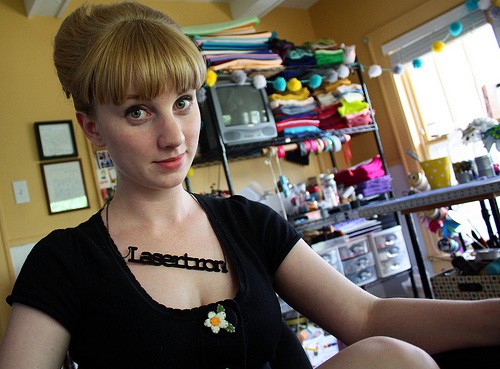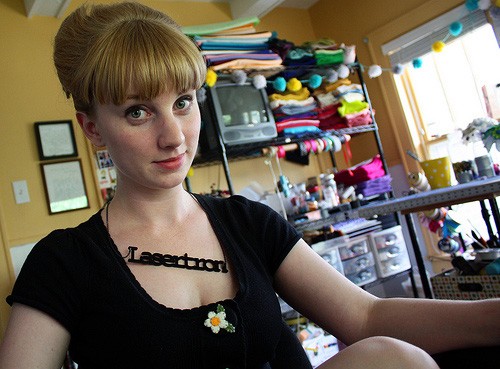 Princess Lasertron.
She lives in Omaha.
Not to be confused with Princess Leia who lives in a galaxy far far away. As far as I know, Princess Lasertron does not wear jumbo ear muffs made out of her own locks nor a gold lamé bikini. And even if she does, that's her business, right? And I'll just mind my own.
I like your hair, Princess Lasertron. And your necklace.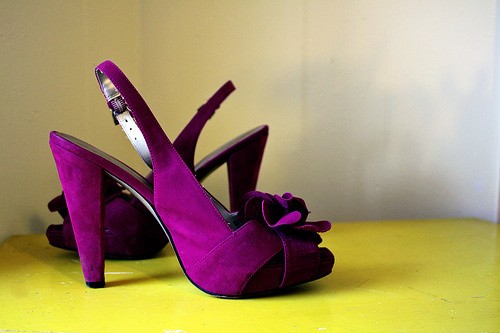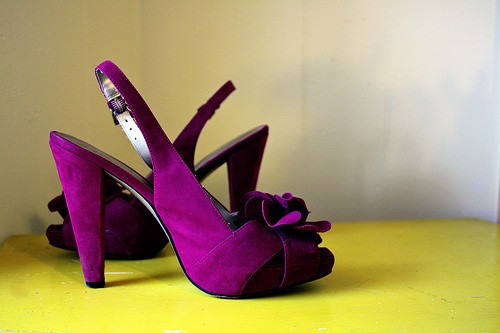 And when I say she's got great fashion sense, I am SO not kidding. These are her shoes, people.
Can you say OH MY GOD seventy times fast while hyperventilating and drooling? I just did and I feel great, albeit slightly dizzy. Bet I would have felt a whole lot better if I had worn these shoes.
Princess Lasertron is a creative spirit, an entrepreneur, a designer, a blogger, a supporter of other local Omaha crafters and the walking personification of quirky adorable.
Is there such a thing?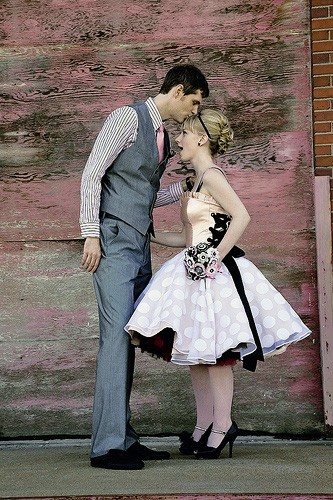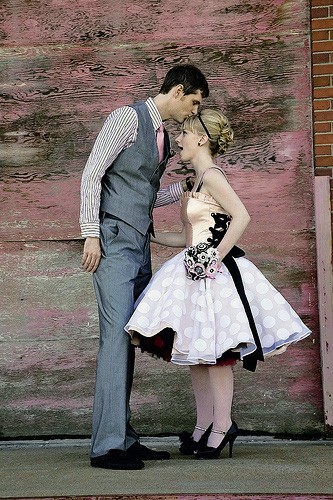 Why, yes there is. See what I mean? This is one of her wedding photos. I mean, seriously? Could she be any sweeter?
Could he be any taller?
Could they be any more perfect together?
By the way, it was her boyfriend who dubbed her Princess Lasertron. She loved the nickname so much, she asked him to marry her and he said YOU BET and they're still living happily ever after.
Do you know the last time I proposed anything to Nate?
Neither does he.
Unless hey, how about re-painting the laundry room counts?
I didn't think so.
Do you want to know what Princess Lasertron does?
She's a designer with a business here.
And she spreads around gobs of happy happy happy for 150+ brides a year by harnessing all that creativity bouncing around inside that talented head of hers and then cuts it and sews it and buttons it and wraps it until it comes out looks something like this: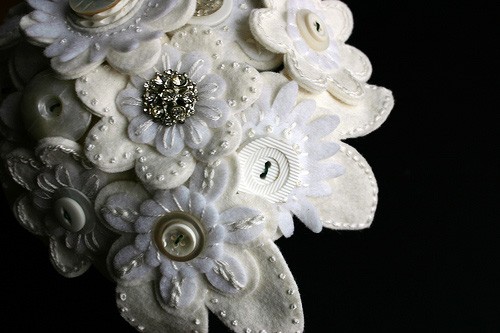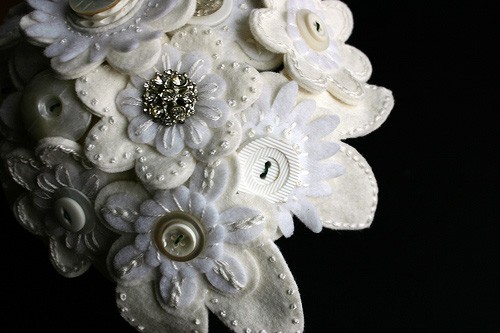 I am in love with this bouquet and will gladly marry it. It's delicate and classy and sophisticated.
Just like me!
Except for the delicate and the classy part.
Fine. And the sophisticated part.
Happy?
.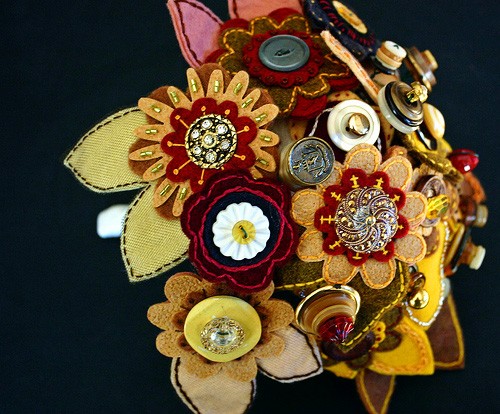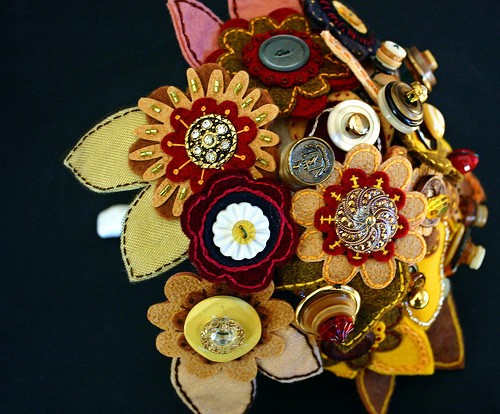 I am, just looking at this one. I'm assuming this was a fall themed wedding. Then again, I'm wrong more often than not. But luckily, Nate remains clueless about this little idiosyncrasy of mine.
Ignorance is bliss, that's my motto.
.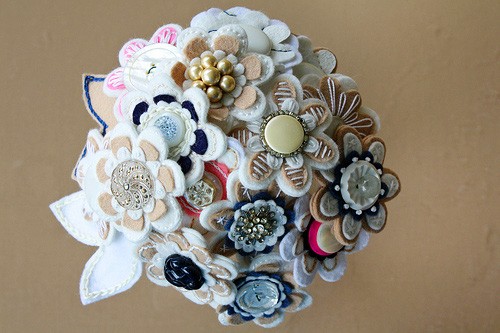 I adore this one. I'm partial to lots of cream with little *pops* of color all over it. This explains why I've decided to keep my entire skin and not give it away to the Salvation Army.
.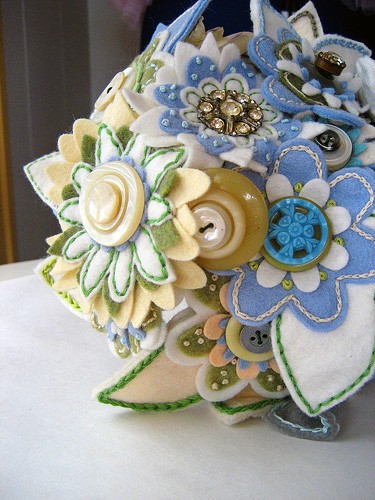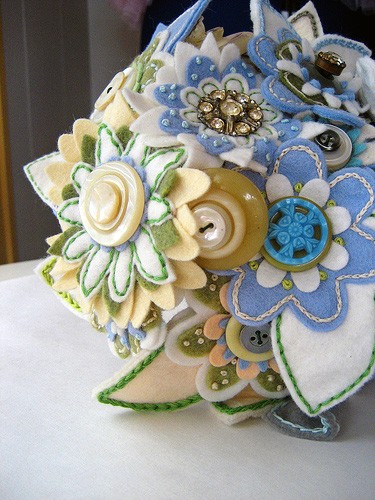 These little bundles of happy can be calm and poetic, announcing your presence to your beloved with a softly whispered I can't wait to start anew with you.
.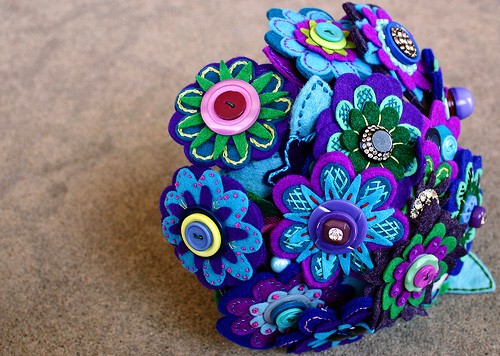 Or they can burst at the seams with barely contained excitement and shout HOT DAMN, LET'S GET HITCHED!
And the thing is, these flowers will last forever. You're not spending money on something that is going to wilt and emit a funky odor within three hours, causing guests to look at you funny and hastily spritz you with perfume when you're not looking.
These bouquets are going to last a long, long time. There will no browning, shriveling or dying or scrambling around trying to make potpourri before it gets sucked up in a Dyson.
.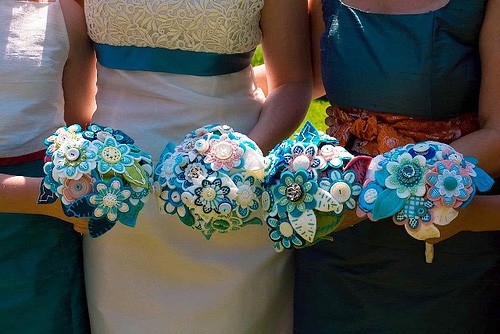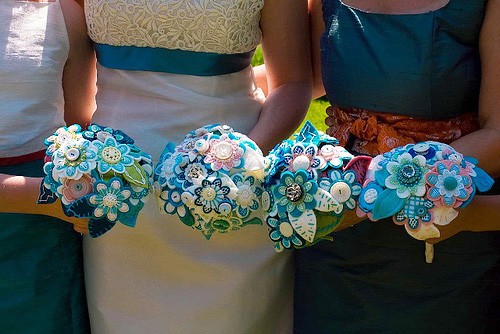 Display it on your mantel. Or on your bookshelf. Or simply make someone hold it in your foyer 24/7. Hey, how about your kids? Isn't that what they're for? That, and taking out the garbage?
No?
Wow. Please keep it to yourself then and don't spoil it for the rest of us. Thank you.
.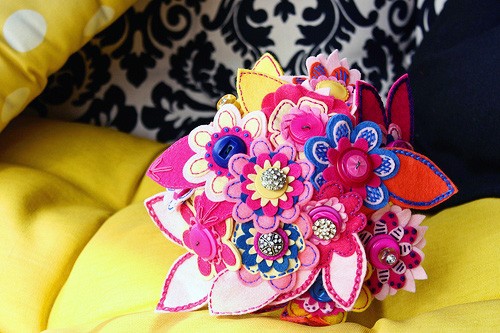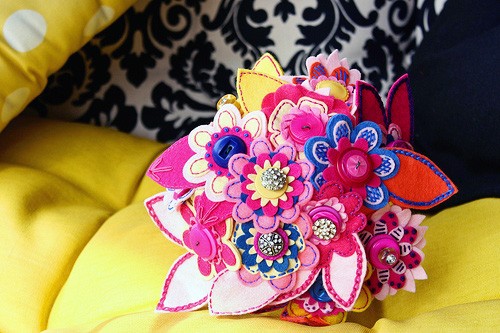 Nate, will you marry me all over again?
Because I want a bouquet like this.
.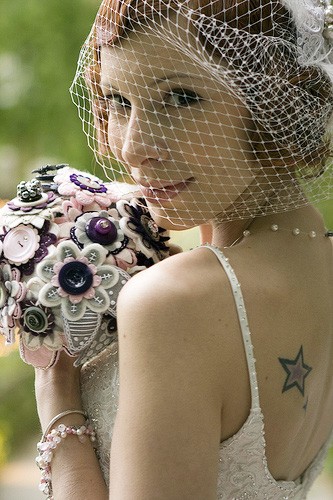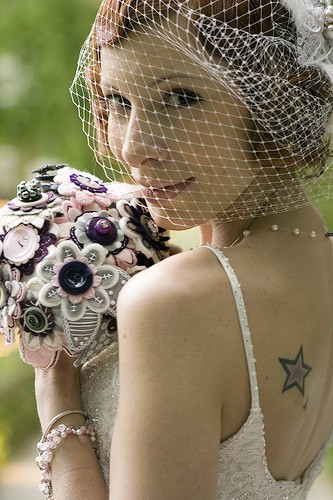 And then I want to look like her while I hold it. Minus the tattoo because I'm a big, fat BAWK BAWK chicken when it comes to pain unless you give me lots of drugs in which case, I'm all over the pain! Bring it on baby!
.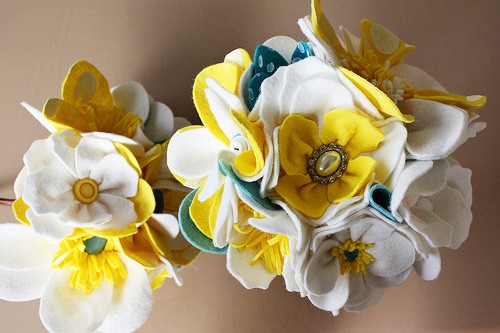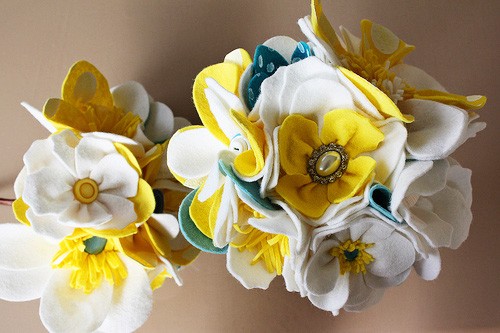 .
We interrupt this post for an important message.These gorgeous flowers do not have to be used exclusively as wedding bouquets. This is a message from your emergency broadcast system.

.
Think outside the box. I know, I know. It can be scary and difficult. I, for one, always keep a box cutter and an oxygen tank handy whenever I attempt to do this myself.
But think about it. Why can't you decorate your home with these? For holidays or parties or just because. That's my favorite excuse for doing anything, like chasing after Anderson Cooper even though he's proving to be very elusive.
Do you know how much my girls would love to have these flowers in their bedrooms? They are currently cleaning their bedrooms. THAT'S how much.
I would actually like to order a bunch and place them all around my house in vases and bowls and keep the eyes of my guests diverted from my gray carpets that were cream once upon a long time ago.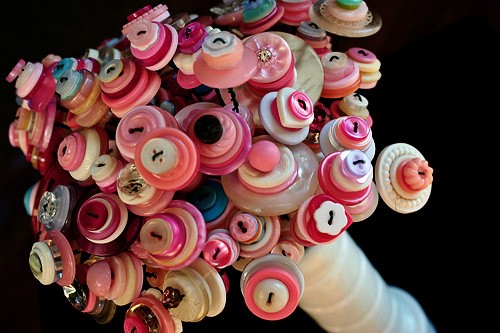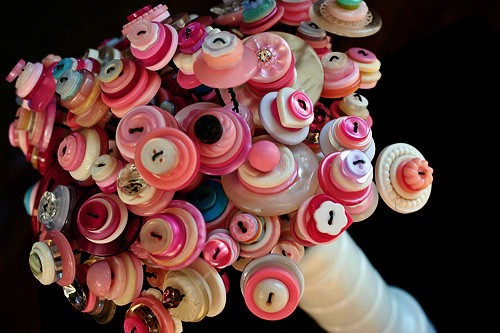 How cute would this be in that crystal vase your mother got you but you never use because the last time your husband got you flowers, you were busy giving birth?
And Princess Lasertron does not limit herself to brides, just so you know.
She also makes hair bows and headbands for little girls.
.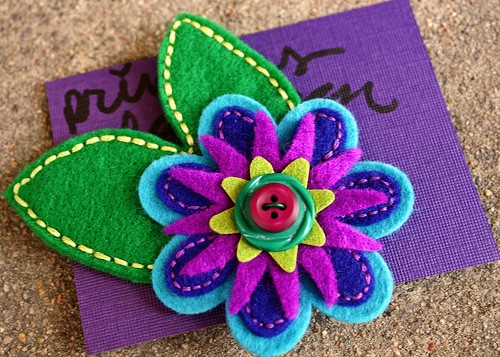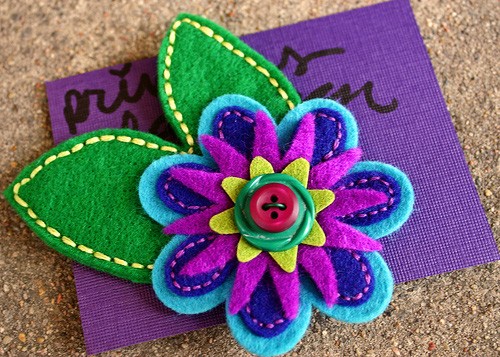 <thud> <———– That's me, fainting from the sheer cuteness of it all. I'd like to plaster these all over Helena's little head.
.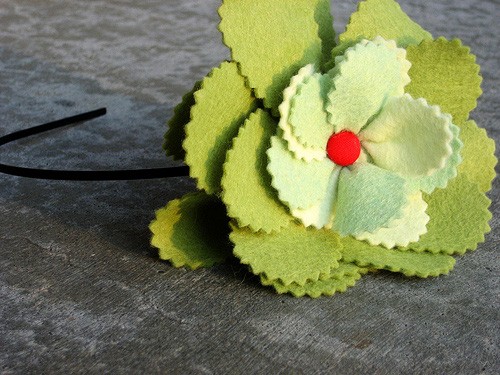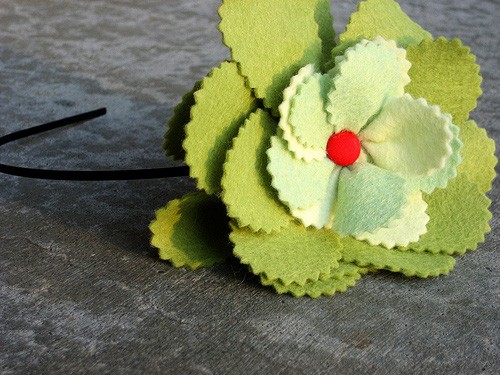 This is a headband. Doesn't it make you want to gobble up a Granny Smith apple? Or ten?
*burp*
.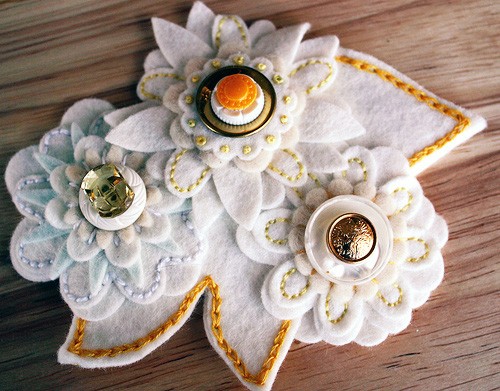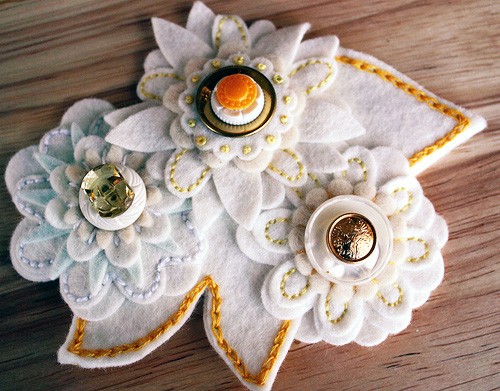 And this one yells I MAY BE COVERED IN DIRT, BUT I AM STILL A GIRLY GIRL, SO THERE.
.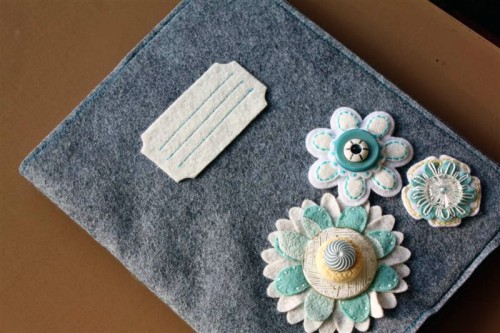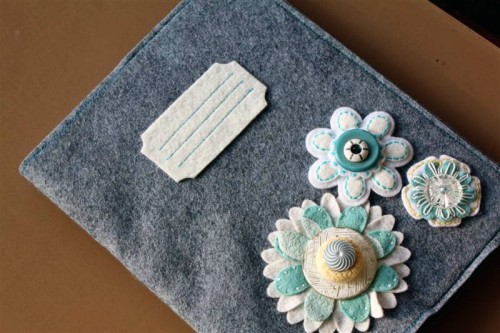 Look at these composition notebook covers she just started offering. Helena tried to jump into my monitor and abscond with this one but I yanked her back by her ankles.
She's got really sturdy ankles.
.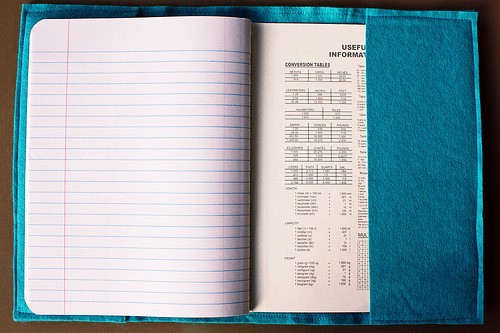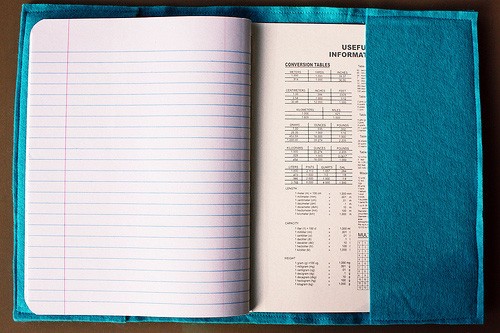 Lather, rinse, repeat.
By the way, one of Princess Lasertron's dreams is to appear on The Martha Stewart Show. And it could really happen. It's an actual living and breathing possibility, not just one of those delusions some people have after downing six shots of vodka.
Not that I would know.
If you've got nothing else to do today, go vote for her projects here: Martha Stewart. Aside from the fact that she totally deserves to be on the show, I'm secretly hoping she makes it just to see her stand next to Martha so I can see the difference in their height. Yes, I know. I'm shallow. I lost my depth at about the same time I lost my waist.
Here's the big news: Did you know that Princess Lasertron offers bouquet kits, a sort of do-it-yourself kind of thing but she does it all for you? Now, those of us who run screaming from bathing suits and thusly, don't swim in creative gene pools, can make our very own bouquets and use them for a wedding or home decor or just to have a fun project when your kids say WE'RE BORED, THERE'S NOTHING TO DO three seconds after they wake up.
They're called Princess Lasertron Felt Flower Bouquet Kits and they can be custom ordered via email at meg@princesslasertron.com in any color scheme you want. Personally, I want one for every single color and hue thereof on earth, but that's just me. I tend to be a little obsessive.
These kits sell for $130 and come in funky boxes filled with lovely things such as hand-cut felt wool pieces, lots and lots of vintage buttons, embroidery floss, needles, pearl headed pins, satin ribbon and a bunch of other necessities as well as a few surprises. I love surprises! Except for the time I turned forty and hadn't showered and was braless and twenty people showed up at my house and yelled SURPRISE in my face. Then, not so much.
Oh, and the kits come with detailed instructions! Perfect for those of us who do not have a "Y" chromosome and will actually read them. All you need to bring to the table is your own imagination and a pair of scissors. For those of you like me, please allot three additional hours to desperately search for one of the seven pair of scissors you own because you also happen to own a nine year old who is practicing to be a crafter and a hoarder simultaneously.
These kits make it so much easier to be creative like Princess Lasertron and they're so much faster than standing around, waiting impatiently to just be her when we grow up, don't you think?
And for those of you screaming JUST GET TO THE GIVEAWAY FOR CRYING OUT LOUD, WHY MUST YOU BABBLE ON SO?
Just because. That why.
Let's get on with it, shall we?
Up for grabs:
.
One Princess Lasertron Felt Flower Bouquet Kit valued at $130.
Looky looky: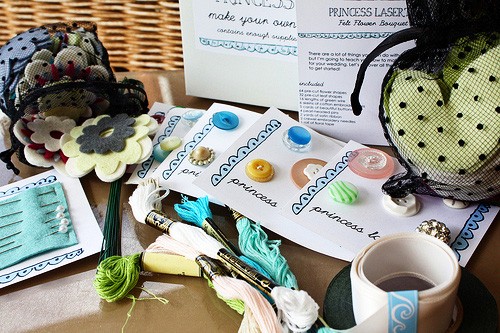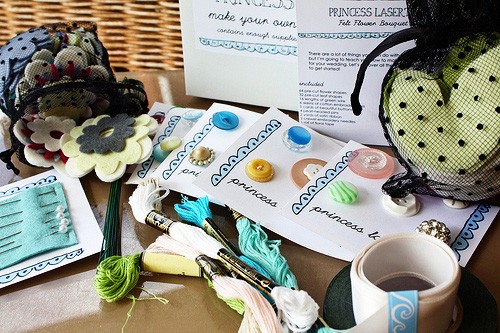 Go right ahead and shriek a SQEEEEEEEEEEEEEEEEEE!
I just did!



This is the color scheme of the bouquet kit up for grabs. Can you say cool and refreshing? And get me some ice cold lemonade while you're at it?
After you find your scissors and stare and faint at all the goodness you've won, you'll soon whip up a snazzy gorgeous 10″ bouquet! Or, you can keep the individual stems separate and use each one however you want! And then you can sit back and bask in the awesome creative gloriousness that is YOU. Stick a stem behind your ear and then order a pizza for dinner. When your husband gets home, tell him that you are too exhausted from being awesome and creative and glorious to make anything else, let alone dinner.
How cute of a project would this be for your daughter? Little sister? Niece? Granddaughter? You know that little 9 year old scissor hoarding imp I mentioned earlier? She was all over me because she wants this kit so badly and when I told her that she couldn't win it because it wouldn't be fair, she promptly packed her suitcase and is currently walking down the driveway in search of a new mom who is not a blogger and who did not mess up her chance to be awesome, creative and glorious. And her fifteen year old sister is right behind her, telling her to wait up.

OK … here's the scoop:
To enter, leave a comment in this post, telling me the last time you felt glorious. I'll start. Two days ago, I found a gorgeous top at Kohls. It fit me without my having to relocate my boobs and it was on sale. And I had a coupon and Kohl's cash. Oh yeah, that's what I'm talking about!
If anyone has a spare life, I'll take it. I obviously need to get one.
Anyone 18 or older can enter, even if you're living in a swamp in the Amazon. Knock yourself out! You probably need it.
No entries after 5:00 pm eastern time on Sunday, August 9, because I will most likely have stopped feeling glorious by then and will simply feel bloated.
You know the drill. Random.org. Randommmmmmmmmmmm.
Your comment will show up, please be patient. Please don't enter more than once! It makes me grumpy. I'll already be bloated, please don't add to my misery.
I'll announce the winner on Monday!
That's it! Good luck!
Who said the best thing to come out of Omaha was steak?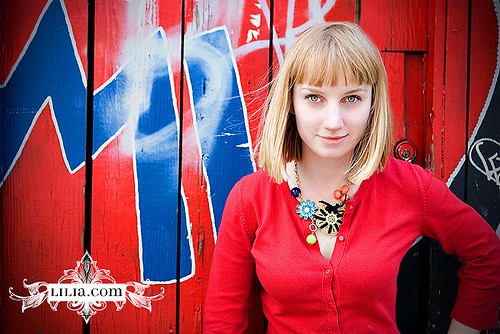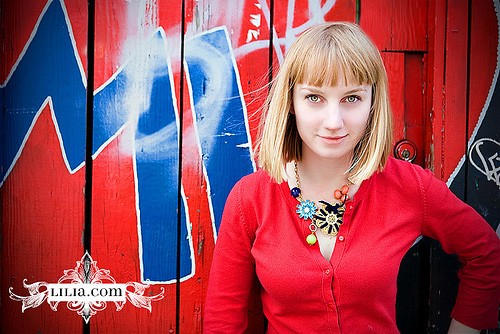 .
.