In case you haven't been hanging around here for the past several eons and don't know me from Adam, I am obsessed with all things Harry Mason.
If you have no idea who … hey, wait a minute! What do you mean, you haven't been hanging around here? Why not? Is there something wrong with me? Why do you hate me? What did I ever do to you?
Did I enjoy it, at least? Hopefully one of us did.
By the way, who the hell is Adam?
I love Harry Mason and if you have no idea who I'm talking about, Harry Mason is a former disco dance instructor/hippy/slalom-skateboarder-turned-jewelry-designer hailing from San Francisco who creates gorgeous, innovative, funky and unique earrings that make your ears moan and shudder and pass out from sheer ecstasy.
Did you know that if you click on his ad in my sidebar over there  ———————> you'll find a coupon code for $5 off? Well, of course you do. Because I just told you.

How much do I adore Harry? I've sung his praises HERE and HERE and HERE.
Yes, as a matter of fact, I do sing off key and makes ears bleed all over the globe. What's your point?
Harry doesn't make ears bleed. He makes them gorgeous. His claim to fame are his earspirals which twist into your ear. Well, not your ear per se, but the pierced hole in your ear, but I'm betting that if I said that he makes stuff that twists into your hole, I'd have three tons of spam, courtesy of PORN 'R US.
Oops. Too late.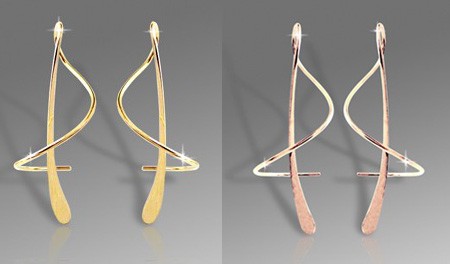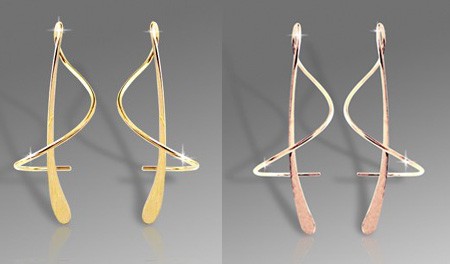 Some earspirals are simple and classic … just like me!
Except, not really.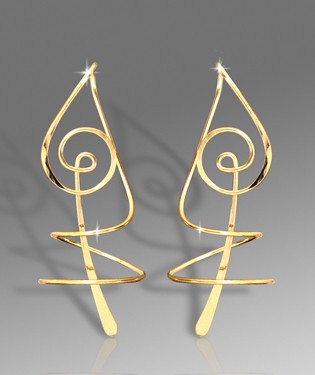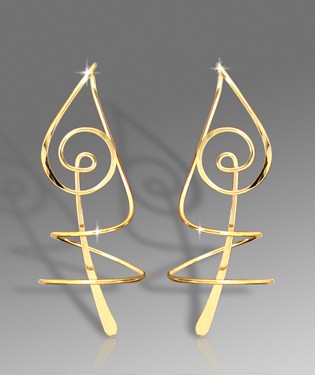 And some are slightly more … shall we say …  involved? Off the beaten path? Marching to the beat of their own drum?
Totally like me!
I make my own drums because I can't find any that are whackadoodlish enough for me. I use tires, plastic wrap, duct tape and cheese. Because I'm an artist, in addition to being a blogger.
Just call me a jack of all trades!
Or, jack-ess of all trades!
Not to be confused with jackass. Of anything.
Which I certainly am not.
Except, not really.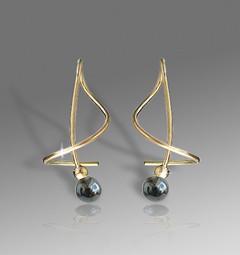 You can go small.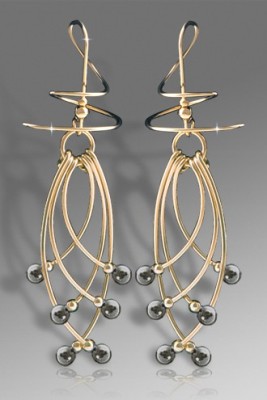 Or go big! Like they do in Texas!
Not that I have any idea what they do in Texas because I don't live there. I live in New York where we do things expensive and then tax the ever loving shit out of it.
Know what I do know?  I KNOW I HAVE THESE SPIRALS!
SQUEEEEEEEEEEEEEEEE!
When ears have eargasms, they made weird, high-pitched noises, just so you know. Be prepared.
Nate bought these spirals for me when we were in San Francisco for our tenth anniversary and when I wear these, my ears have the Big O and yell Don't hate me because I'm beautiful in forty-three languages.

Kelly LeBrock, eat your heart out. Or your ears. Whatever.
For those of you who don't know who Kelly LeBrock is and have no idea what the hell I'm yammering about … are you old enough to even read this blog? Go ask your mother.
Speaking of mother …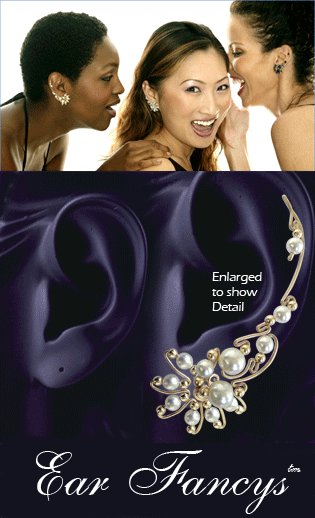 Would you believe my mother has these?
My mother, who cannot call my land line without reaching my cell phone because she's technologically impaired, who still refers to jeans as "dungarees" and who had to be dragged kicking and screaming into the twenty-first century, bought these for herself and wears them out to dinner or to the Thee-Ah-Tah (theater, for those of us who are normal) and gets so many compliments on them that she finds it necessary to call me on my land line and reach me on my cell phone and brag about them.
My seventy-eight year old mom wears these and hence, is cooler than me.
Stunned disillusionment, party of one? Your table is ready.
.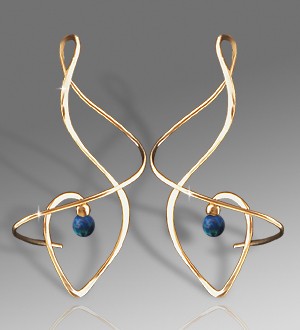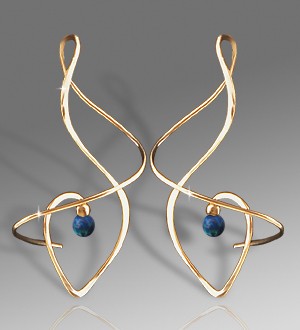 SQUEEEEEEEEEEEEE!
Don't tell my mom about eargasms because as far as she's concerned, I don't have any gasms WHATSOEVER.
.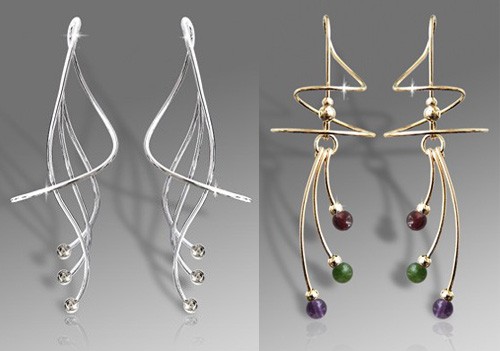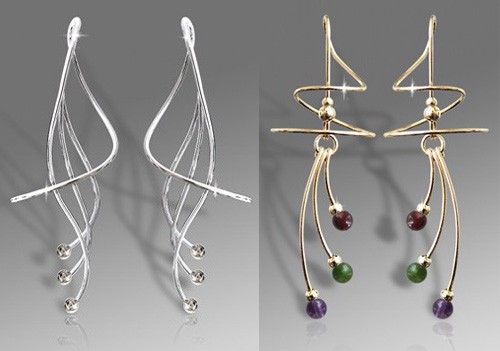 Can you hear them?
.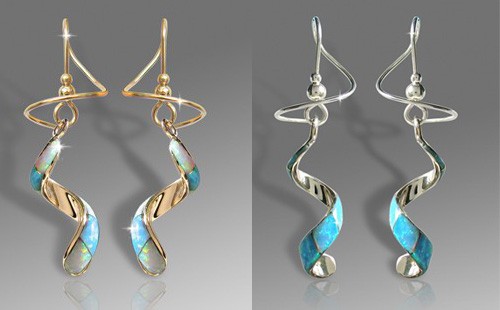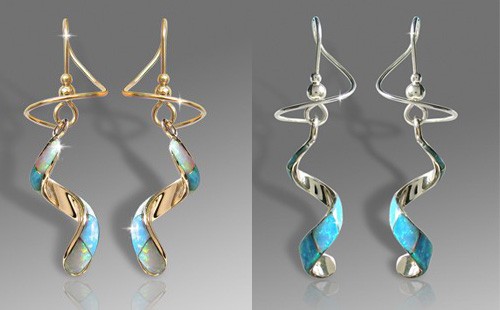 Can you hear them now?
You know, when I wore black rimmed glasses, I sounded a lot more like the Verizon guy on the commercial when I typed that.
.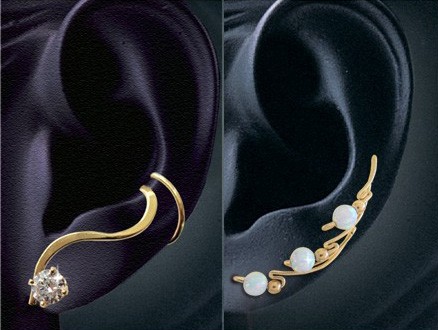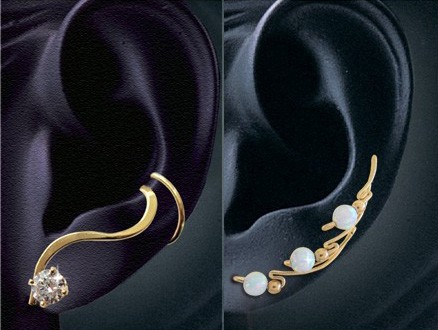 On the left is an ear cuff. On the right is an ear fancy.
I don't bother with all the different names. I just call them yummy.
.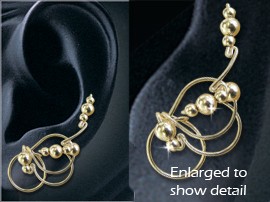 How pretty is this? It's like someone drizzled liquid gold all over your ear lobe.
Wouldn't that feel nice?
.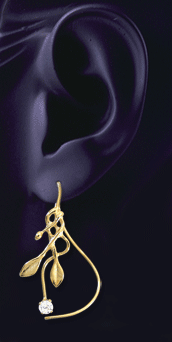 You can even mix and match from Harry's arsenal. I will take one of everything and pair it up with two of everything else.
Thank you.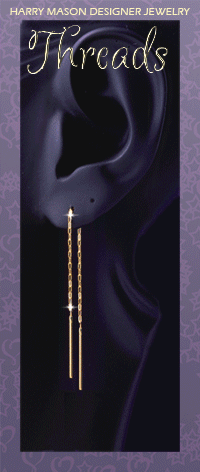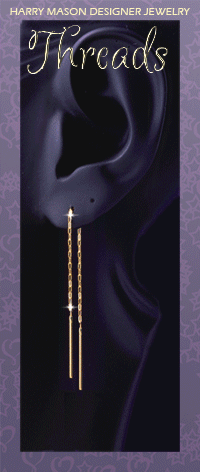 I'm kind of liking these threads. I'm considering piercing my ears 22 times and creating a macrame sculpture out of these.
This is what I like about Harry's stuff … it's different, it's unique and it gets you noticed and I when I say it gets you noticed, I mean that in a totally good way and not in a HEY, IF YOU WEAR YOUR PANTS ANY LOWER, I'M GOING TO GIVE YOU A PAP SMEAR kind of way.
So … what's up for grabs?
I thought you'd never ask!
A $100 shopping spree to Harry Mason Designer Jewelry, at his online shop or at any of his stores!

All of our other body parts get pampered, right? We get pedicures for our feet and then dress them in Uggs and Jimmy Choos, we spend hours at the salon to get our hair done and then cough up more money on hair product to make it appear as if we just woke up that way, we get our boobs lifted or, if we're on a budget, we slap on a wonder bra from Victoria's Secret for the same effect at a fraction of the cost, we go to Sephora and make our face look ten years younger, we go to the gym and tone our arms and abs and thighs and butt or go to Kohls and buy some Spanx that essentially does the same thing without sweating.
So why not pay attention to our ears, ladies?
Why should our nether regions corner the market on all the gasms? Don't our ears deserve a Big O every once in while? I mean, they're the ones that actually have to listen to all of us and if your ears are anything like mine, they've probably had it up to their eyeballs with all the whining and complaining and yelling and lack of bipartisanship and worst of all, all the damn Miley Cyrus-ing or, as she's known in our house, OH MY GOD, STOP IT, STOP IT, STOP IT, BEFORE I STAB MYSELF WITH A SHOVEL.

Do ears even have eyeballs?
.
.The scoop:
To enter, leave a comment in this post and tell me one thing you hope to get for the holidays this year. I'll go first. I hope to get busy. Quick, someone tell Nate, before the moon leaves the seventh house and I come to my senses.
Anyone 18 or older can enter. I was eighteen once. I was older once too. Lots of times, actually. Too many to count.
The shopping spree expires thirty days from winner notification.
Winner must confirm notification within 48 hours or I'll have to choose a substitute which will make me sad and I'll probably cry. Have you seen me cry? It's not pretty. There are bodily fluids involved.
If you have trouble setting limits, like me, you can spend more than $100 and simply apply the $100 to your total due.
No entries after 9:00 pm eastern time on Sunday, November 29, because that's when I will be outside examining our Christmas lights and making sure they are uniform and symmetrical. Coincidentally, this will also be when Nate is standing stoically by my side, biting his tongue and reminding himself of our wedding vows, specifically that pesky "'til death do us part" bit.
I will use Random.org to choose the winners. Yay! Yippeee! Whoo hooo! Am I the only one excited by the possibilities?
One entry per person. Entering more than once leaves me gobsmacked. I have no idea what that means, but I always wanted to say it.
My blog theme Thesis is still messing with my comment numbers. It numbers all the way to up comment #300 and then starts back at #1 again. It's infuriating but I'm aware of it so go ahead and post your comment and don't worry if there are duplicate comment numbers! It's under control, which is more than I can say for my temper whenever I even mention this.

I'll announce the winners on Monday!
.
That's it!
Good luck!
.
.