To celebrate St. Patrick's Day, I was going to start this post by shrieking TOP 'O THE MORNING TO YA and throwing some corned beef and cabbage and a few leprechauns at you but then I googled and discovered (1) no one actually uses the phrase Top 'o the morning to ya in Ireland unless they want to get pummeled and have their knickers flown up the nearest flagpole; (2) the whole bit about corned beef and cabbage is more of an American tradition than Irish because the Irish avoid food that reeks of sweaty feet and makes you gag up your colon; and (3) PETA doesn't like anyone throwing around leprechauns.
So, with all the time I just saved myself from having to cook grossness and chase after little green mythical creatures, I decided instead to introduce you to a real, live, bonafide Irish tradition named JanMary.
Hi JanMary! ((waving))
JanMary hails from Northern Ireland where she is a wife, mum (her term – is that adorable or what?) blogger and jewelry designer. She sells her wares at janmarydesigns.com and by wares, I mean her lovely jewelry, not her husband and three kids because I'm pretty sure that's illegal in Ireland.
DISCLAIMER: I'm just going to put this out there right now, so that no one wonders what sickness has befallen me and my inbox isn't inundated with emails asking if I tripped over Oliver and sustained a massive concussion. Out of respect for JanMary's father who just might read my blog today, I'm going to keep this giveaway post clean. No cussing, no double entendres, no winky-winky-nudge-nudges, no references to Nate's anatomy. I'm going to keep my potty fingers to myself, even if it means I have to superglue them to my bottom and type this with my toes.
Hi JanMary's dad! ((waving)). I'm sorry I said bottom.
Let's see how JanMary spends her free time, shall we? I mean, besides not making an MP3 file of her accent and emailing it to me so that I can upload it to my iPod and listen to it 24/7 and die happy.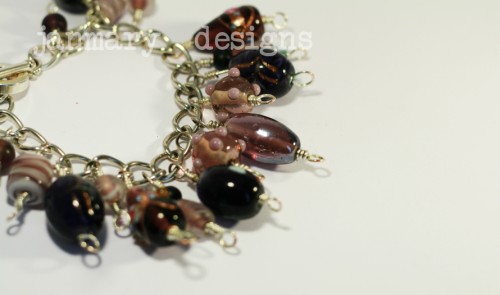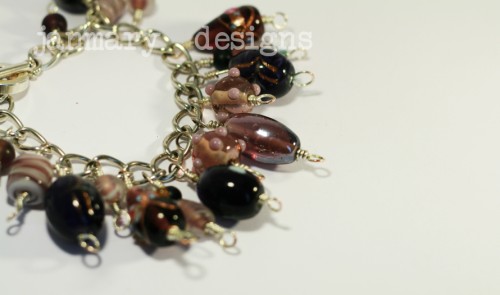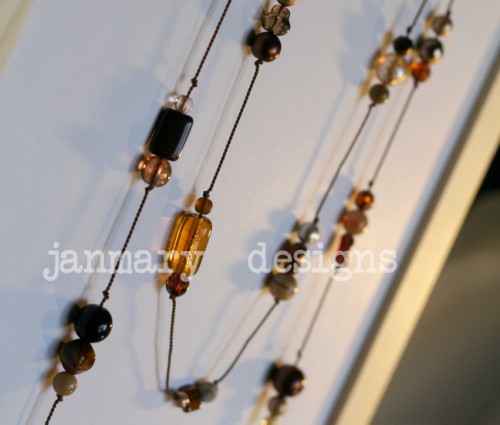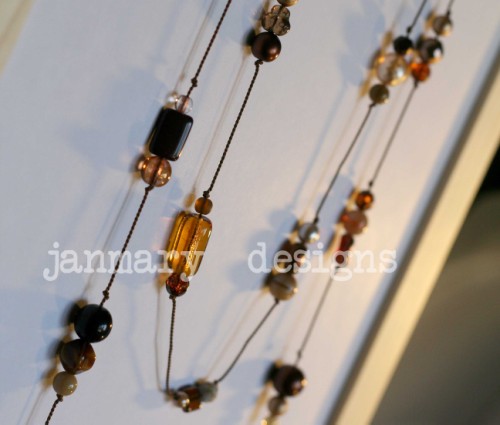 Pretty, pretty, pretty! There's something so warm and inviting about these hues.
Pretend I'm typing that with an Irish brogue, OK?
It'll be fun!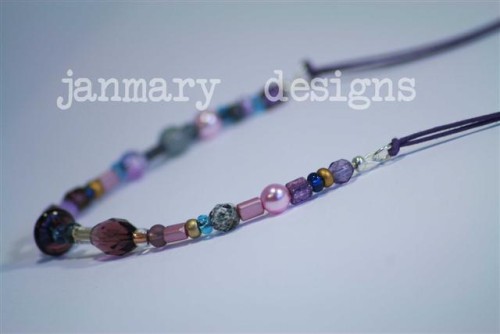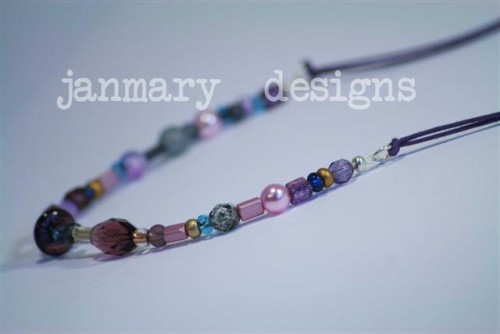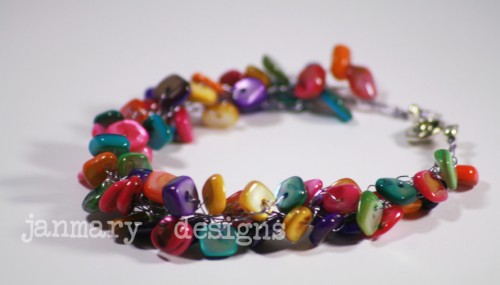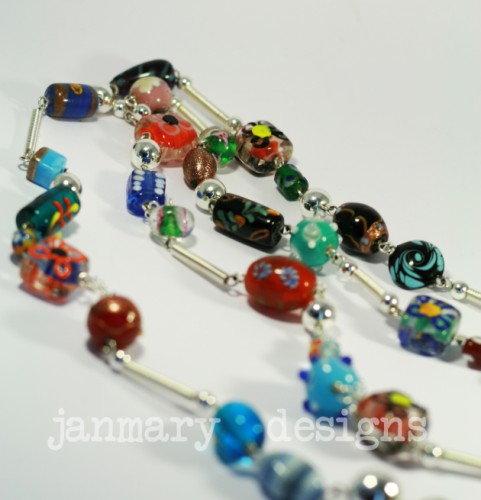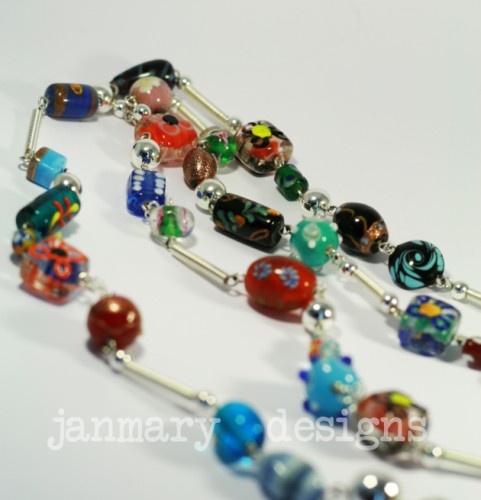 I seriously LOVE LOVE LOVE the colors in all of these. They make me happy!
And hey, my brogue is pretty darn good, if I do say so myself, which I do simply because no one else will. If you close your eyes, it's almost like I'm typing this straight from Ireland, don't you think? As a tall, slim, gorgeous redhead, I might add.
Wouldn't that be nice, me as a redhead? I bet Nate would like …
NEVERMIND.
Hi JanMary's dad! ((waving))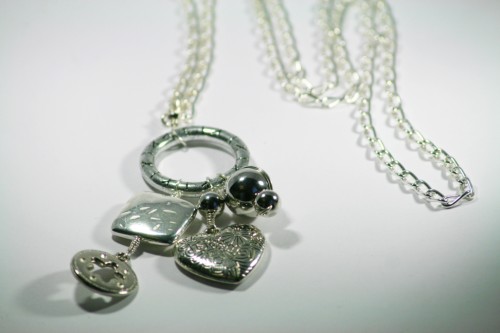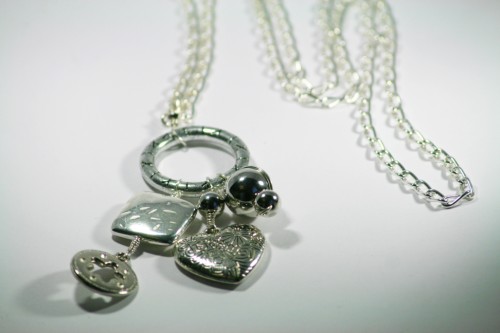 I love this one. If it were up to me, I'd greet Nate at the door wearing nothing but wkoipdf osier lxsvde gpoiwuer oujiow!!!!!
ACH! Sorry for all the typos. My big toes just aren't as dexterous as they used to be. They're a wee bit banjaxed. Help! My big toes are banjaxed!
JanMary told me that in Ireland, "ach" is an expression of frustration or annoyance and "banjaxed" means ruined or destroyed. I personally love "banjaxed" and I've decided that I'm going to use it every chance I get.
I'm also going to use "eat the face off" (reprimand) and "barge" (scold) and "catch yerself on" (warning/caution) and "craic" (entertaining or funny) and "give my head peace" (go away and leave me alone) as much as I possibly can because they make me sound cool! Or drunk. It's hard to tell, actually.
So give my head peace and catch yerself on! Don't be barging and eating my face off for trying out the craic!
See what I mean?
By the way, my spell check is crying right now.
Oh, I almost forgot! JanMary has also started selling note cards created from her gorgeous photography of Ireland: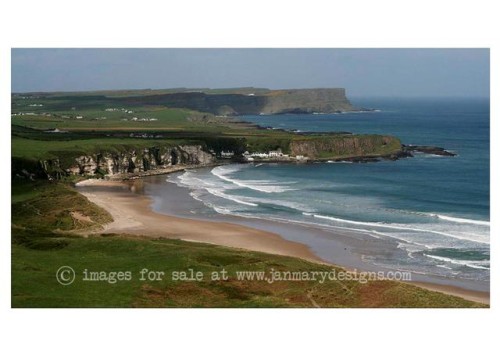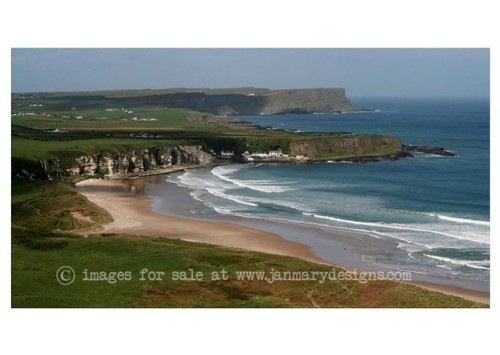 I would like to live here, please.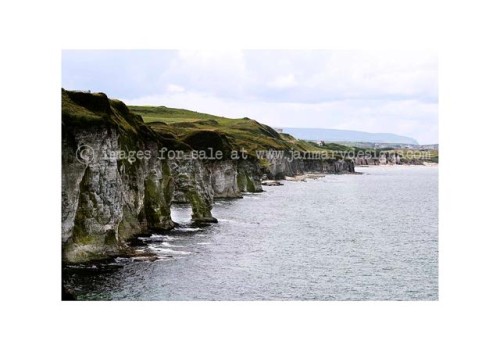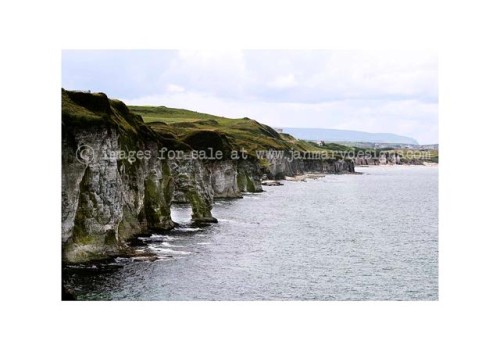 Or here. I'm not picky.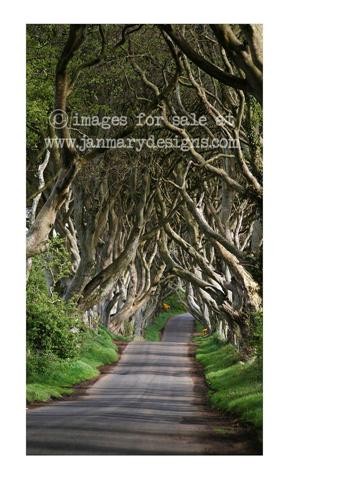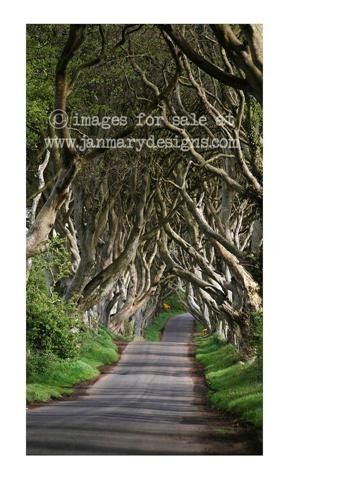 This last one, of the Dark Hedges? This is my absolute favorite. I want to move to Ireland just so I can see it in person. Who's with me? I'm sure JanMary can put us up for a bit! She's remodeling her bathroom at the moment so we might have to run outside periodically to take care of business but who cares? It's Ireland. When will we ever get another chance to tinkle on land that lush and green?
Hi JanMary's dad! ((waving)). I'm sorry I said tinkle.
So … what's up for grabs?
.
A $50 shopping spree at janmarydesigns.com! Go get yourself a touch of Ireland from way over yonder where you are! Unless you're reading this from Ireland, in which case – can I come live with you?
JanMary takes custom orders as well – if you don't see what you want or it's not available, just say ACH JANMARY! MAKE ME UP A WEE NECKLACE, WON'T YOU? You might want to throw in a leprechaun to sweeten the deal since JanMary's kids have never even heard of leprechauns. Can you believe that? They need to fly over to my house and gaze upon the liquid green in my toilet and be schooled in the ways of the leprechaun because seriously, Irish children not knowing about leprechauns? That's just all kinds of banjaxed, if you ask me.
In case you're wondering? Nobody ever asks me.

The nitty gritty:
To enter, leave a comment in this post and tell me the last time you saw a rainbow. I'll go first! It was yesterday morning. I took Oliver out to pee for the 117th time and the sun was shining just right and there appeared a little mini rainbow over his piddle puddle. I would have burst out into song with a rousing rendition of Somewhere Over the Rainbow but there were enough bodily fluids leaking out of Oliver at that point. I saw no need to make blood come out of his ears as well.
Anyone 18 or older can enter. So if you're 18, you could be young AND lucky. And then you could … nevermind. Hi JanMary's dad! ((waving))
Winner must confirm notification within 48 hours or I'll have to choose an alternate. Please don't let that happen because it will make my left eye twitch and I don't want my neighbor to think I'm winking at him because his wife is bigger than me and not in a good way.
If you have trouble setting limits (who, me?) you can spend more than $50 and simply apply the $50 to your total due.
No entries after 9:00 pm eastern time on Friday, March 19, because Hello? Friday night! Nate and I will have a date with the couch and a rerun of Operation Repo. Nothing says ten years of marriage like watching a morbidly obese, pierced, tattooed freak of nature repossess a car while wearing a muumuu.
I will use Random.org to choose the winner. I can hear all of you yelling ACH ACH ACH from way over here – don't think I can't.
One entry per person, please! Your comment might go into moderation for a bit but it will show up! So catch yourself on and give my head peace and stop with the duplicate comments already or I'll be all eating your face off and banjaxing myself to death.
I'll announce the winner on Saturday!
That's it!
Happy St. Patrick's Day, everyone! Be nice to the leprechauns.
.
.