It occurred to me that I completely forgot to show you pictures of my finished laundry room.
I know! It's a wonder I can tie my own shoes, really.
Remember my tiny laundry room? Well, in case your memory is anything like mine and comes fully equipped with a ten second window, you can read about it HERE. Essentially, I loathed my laundry room because it wasn't painted Peach Blossom Mist. Yes, I know I'm an ungrateful little wretch for complaining about the color of my laundry room when undoubtedly there are people right now who are probably reading this blog while boiling clothes in kettles and slapping them against rocks while trudging up hill both ways in the dead of winter with no shoes, but I paid my dues. It took me thirty-seven years of hard work to get my own laundry room and I had to go through two husbands, five houses and 850 stretch marks to get it, only to be told that I couldn't have it the way I wanted.
That's like being in labor for six months while trying to push a 10 pound baby girl out your boy howdy for four of them, only to wind up having a c-section and when the doctor finally yanks her out of your stomach and holds her up in the air for you to see, you smile and cry and thank God and envision her future and then you ask the doctor if he can do anything about the third eye growing out of her nose and he yells FOR GOD'S SAKE, BE GRATEFUL SHE EVEN HAS A FACE. HERE, HOLD YOUR UTERUS A SECOND. I'M BUSY.
Nate was not too enthusiastic about painting the laundry room, even when coaxed with heavy narcotics, and for years, my tiny laundry room bore a flaccid lilac sheen, an ugly ass floor and hideous cupboards too small to store anything. I tried my best to grit my teeth and ignore it all by camouflaging the walls and cupboards and floor with heaping baskets of moldy towels, sweaty socks and sticky underwear.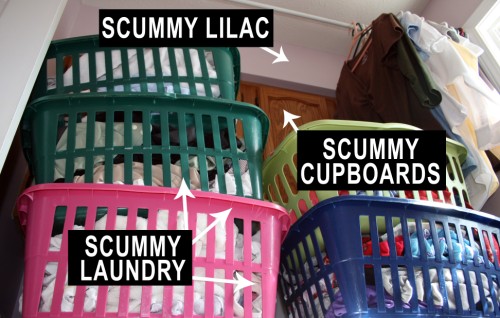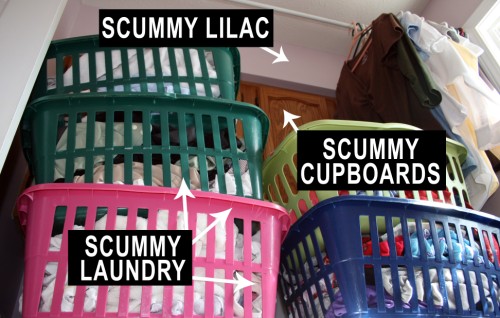 And then last year, something happened to Nate and he came home from work one day, sat down for dinner and agreed to paint the laundry room and tile the floor and build me shelves. And nobody even had to get naked. Whoever hit him over the head and gave him the instant lobotomy he so desperately needed? I have your thank you note right here. I just don't know where to send it.
You would have thought that I would have run right out to Sherwin Williams that instant to buy my beloved Peach Blossom Mist before Nate had a chance to wake up and you would have been exactly right except for the fact that I didn't do any such thing and not just because I was starving and wanted to stuff my face full of baked ziti, although that was a good chunk of it.
No, it's because, as it turns out, when I'm faced with the realization that I can finally have whatever it is I've wanted after yearning for it for so damn long, chances are I don't want it anymore. I'm more vested in the chase than I am the prize. Strange how that happens, isn't it?
Just for the record, this phenomena only applies to home decor. Don't get your hopes up, Anderson.
So I went in another direction completely and declared that I wanted a blue laundry room because blue was supposed to instill calm and well being and seeing as how that room sucked all the zen out of my body through my eyeballs every time I stepped foot in it, I figured I was making the right choice.
Nate spent an entire day painting the room and this was the result: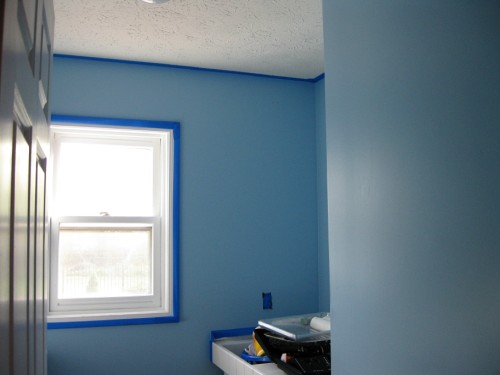 It was a little … intense. I think it looked a little like one of those rooms they throw you in after they wrap a straight jacket around you.
I mean, I couldn't say for sure, since I've never actually had the pleasure.
What's that, you say?
Oh, shut up.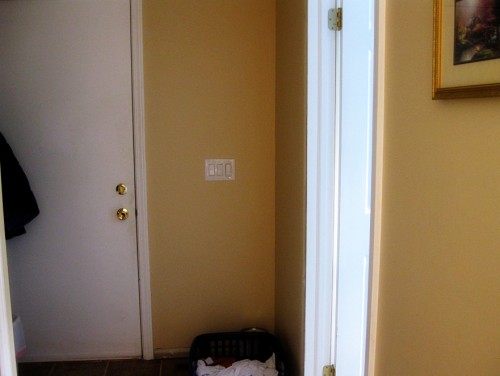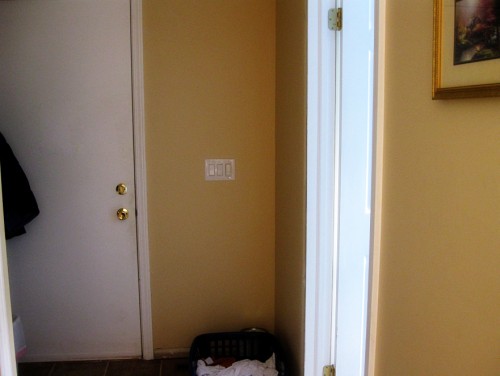 And whenever the door was open, the room cast a glow, as if we had stuffed a lighthouse in there for fun.
So I wasn't happy and as we all know, if I'm not happy, AIN'T NO ONE GONNA BE NAKED HAPPY.
So I poured over the paint swatches from Sherwin Williams and Nate remained silent with paint roller in hand because he likes naked happy and eventually, I decided on a chocolate brown color and this is what our laundry room looks like now: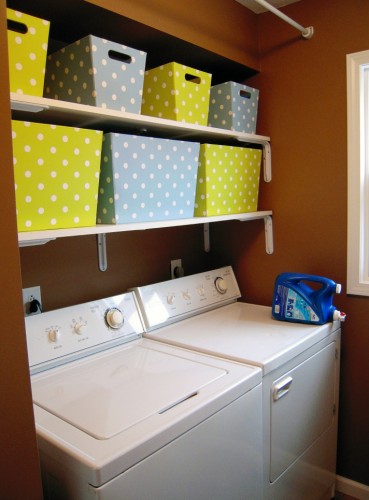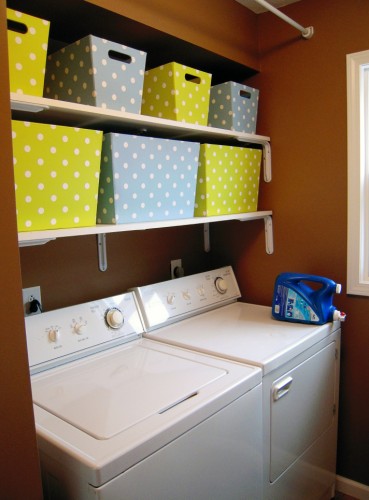 The walls are a rich chocolate hue that reminds me of Willy Wonka's chocolate river and I have to restrain myself from slurping them. The baskets came from Target and when they're filled with all the crap that somehow always finds its way into a laundry room, they're pretty damn heavy, hence the additional supports Nate added to the front of the shelves so that they don't come flying off the wall and bonk me on the head whenever I reach for the Woolite. Good thing too because I tend to yell eclectic when I'm bonked on the head and it's entirely possible I'd yell something like OH MY GOD, WHY THE HELL DID WE PAINT THIS ROOM THE COLOR OF DIARRHEA? And Nate would just stand there, paint roller in hand, watching naked happy slip out of his reach once again.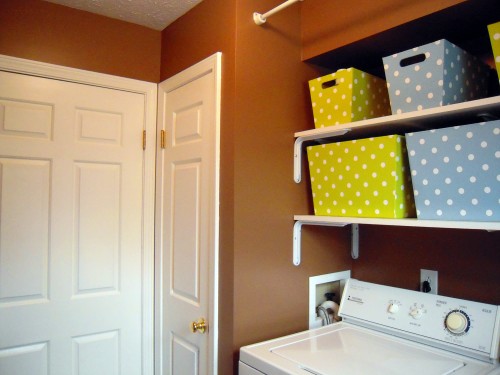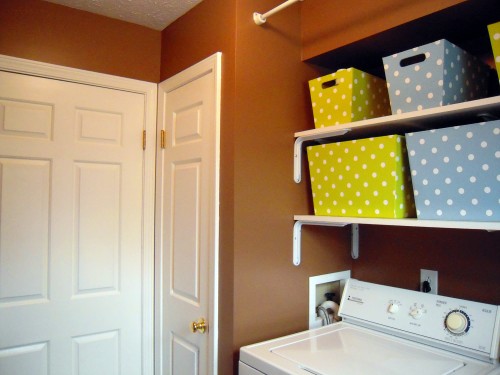 The view from the other side. That's our utility closet. I think the vacuum is in there.
Shhhhhhhhh.
It's hibernating for the winter. All six months of it.
Thank you, New York State.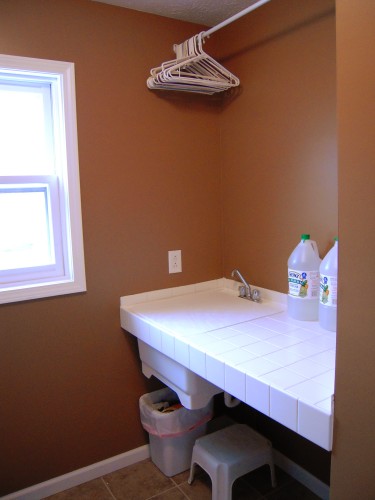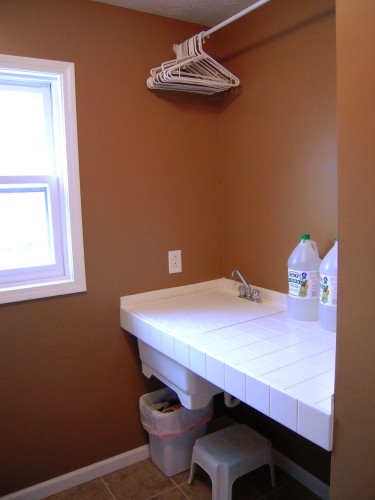 The other side of the room, a whole two feet away. You can just barely see the ceramic tile floor Nate installed which is a good thing because I forgot to take a picture of it and now I'm too lazy to exert the effort. He also built me a table with a cover for the sink for additional room. So now I have a space to cover with absolutely everything that doesn't belong there, allowing me to continue my practice of stacking fifteen laundry baskets in the living and family rooms and cover all of our couches with 98 cubic feet of folded laundry because WHERE ELSE DO YOU EXPECT ME TO FOLD ALL THIS STUFF?
I love it when he makes things easy for me and doesn't disrupt my routine in the process.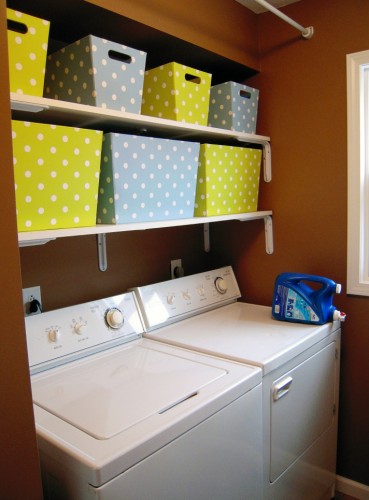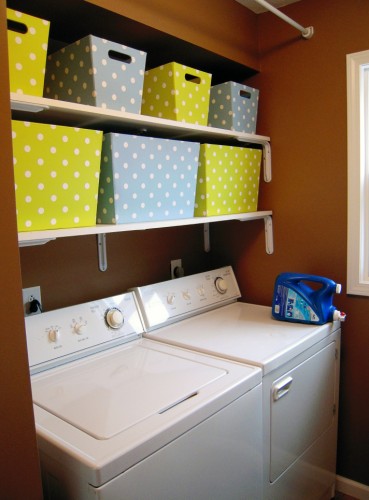 It may be small but I don't care. I love my laundry room now. I don't cry when I enter it any longer, provided there's no actual dirty laundry anywhere within the confines of its walls. I cry buckets when there is, but I attribute that more to the horrendous stench emanating from the baskets and making my eyes bleed. That, and the fact that I misplaced my goggles.
Thank you, Nate! This room was totally worth two husbands, five houses and 850 stretch marks.
And a few bouts of naked happy.
.
.