Remember Martha from one of my prior giveaways? The Kentucky red head with a thick southern drawl, who won't wear ickie undies and who can make Photoshop dance about wildly?
When was the last time you danced about wildly? Without embarrassing yourself? Mine was in utero.
Martha is still in Kentucky, busy raising her husband and three kids and her eclecticRed business. She refused to come visit me in New York to celebrate my one year blogiversary, insisting that she doesn't do cities, especially New York City where she's got nothing to wear that would be suitable for getting chewed up and spat out on a dirty sidewalk near a subway just in time to get mugged or run over by a taxi, all before getting a chance to holler in a southern twang HAYLP ME! HAYLP ME!
I told her to just wear jeans, for crying out loud! They're perfect for any occasion! But she ignored me.
I keep telling her that I live in upstate New York which is about a million light years from New York City, and at least five fashion trends behind. That she'd have to trek into one of our backyards and find a sturdy cow and ride it at least two full days to even get anywhere near New York City from my house.
But she won't listen to me.
Why won't anyone listen to me?
Are you still there?
Martha couldn't make it here to celebrate the fact that one year ago yesterday, I typed up a little story about how I married my tall, dark, handsome, rebound guy and put it on the Internet and became an official blogger.
But I forgive her. Want to know why?
She paid me lots of money.
And she offered up another cool prize for a giveaway.
Remember how she makes Photoshop dance?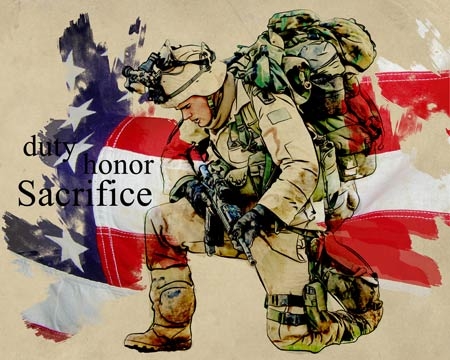 Here, Martha made Photoshop do the paso doble (pronounced paas-o dobe-lay) all over this photo of a soldier. The Paso Doble is a masculine dance full of pride and dignity. Betcha didn't know I knew that, huh? Think I only watch Dancing with the Stars to ogle the guys' chests? And bums?
Oh, please. Like you don't?
This is a full color line art rendering of a photo, hand drawn by Martha. Line art is a style of digital design made up of … lines.
I almost sound like I know what I'm talking about, don't I?
Here, Martha made Photoshop to do a waltz all over the canvas, creating this adorable baby announcement in the process.
Sometimes I wish my uterus was not in retirement.
Until I hear MOM! SHE CALLED ME A FREAK! Then I'm all about the retirement.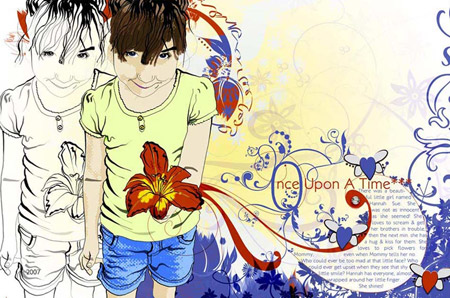 When Martha forces Photoshop to perform the lindy hop, this is what it does. How cute is this?
When I instruct Photoshop to perform the lindy hop, it spits at me.
This is a line art drawing of Martha's daughter, made up of … lines. And other stuff.
The drawing, silly! Not her daughter! Her daughter is made up of sugar and spice and everything nice.
Just call me Emily Dickinson.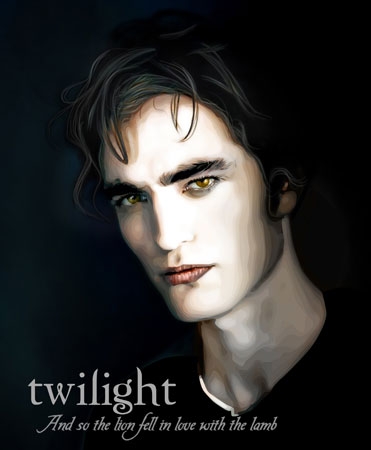 Here's Edward from Twilight fame. Martha looked Photoshop right in the eye and demanded it DO A MAMBO RIGHT THIS INSTANT and Photoshop decided that a mambo wasn't hot enough for Edward Cullen so it said HEY, HOW ABOUT A CHA CHA INSTEAD? Then it channelled Apolo Anton Ohno and Julianne Hough from the fourth season of Dancing with the Stars when they performed a cha cha so sexy and raunchy, the entire audience smoked a cigarette afterwards.
Apparently, many people of the female persuasion find Edward sexy. I'm sure some of the male contingent do as well.
Not that there's anything wrong with that.
The above Edward is a vexel rendering where Martha layered thousands of shapes and colors to create the image. And when I say thousands of shapes, I'm not exaggerating.
Not that I'm prone to exaggeration. Because I'm not. You can ask my husband, once he's done spending eleventy billions dollars buying up every single item on earth over the Internet.
Martha once told me that one of her vexel renderings had 2000+ layers.
My computer would choke and drop dead. So would I, for that matter.
By the way, Martha's got Edward on sale! For $5, you can download Edward HERE and then you can stare at him all day and tell yourself that you are NOT a cougar.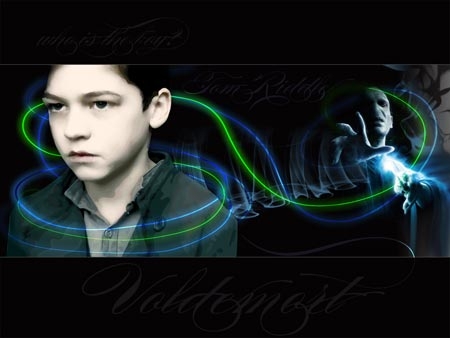 Here's another paso doble performance from Martha. It's a vexel of Tom Riddle/Voldemort from Harry Potter.
I love saying paso doble.
Paso00000000000000 doble.
The Paso.
Pasoooooooooooooooo. Doblaaaaaaaaaaaaaaaaaaaaaaaaaaaaaaay. Sounds like something you can eat with cheese.
Pssssssssst: If you want Tom Riddle as a screen saver or, if you want to print him out at any size upwards of 25 inches by 10 inches (can you say GO BIG OR GO HOME? Geez, you'd think Martha was from Texas), then run over HERE … Martha is giving him away. As in FREE.
.
OK. So … what am I giving away to celebrate my one year blogiversary?
I thought you'd never ask!
.
One 11 x 14 custom piece of line art designed by Martha.

Simple black and white rendering  -OR- full blown color chock full of design … it's winner's choice.
Just email or snail mail her a photo and she'll wave her wand and make Photoshop do the foxtrot all over it. Then she'll provide you with a high resolution digital file that you can download and print at your favorite online site or brick and mortar store. Shutterfly? Costco? Walgreens? Or how about your Uncle Harry's down the street because he owes you a favor from that time you caught him wearing pasties and a hooker?

And think about it … you will have a high resolution, digital image. This means you can print off as many as you'd like! How about some early Christmas shopping? Hanukkah gifts! Want to shrink it down and use it for announcements? Invitations? Wallpaper your bedroom? How about printing off 768 of them and sending them to Jim Bob and Michelle Duggar so they can give one to each of their kids?

OK … here's the scoop:
To enter, leave a comment in this post, telling me the last time you danced. At your prom? Your wedding? Your divorce? While waiting for the potty? Mine was this morning. I did the hustle in the shower and I'm not ashamed to admit it.
Did I just type that out loud?
No entries after 5:00 pm eastern time on Sunday, May 10, because that's when I will be busy playing sloth on the couch, right before lapsing into a calorie induced coma from gorging myself on breakfast, lunch, dinner and the 34 desserts that have had my name written all over them since last Tuesday. It's Mother's Day, after all.
I'll use random.org to select one winner. I love all things random!
I have big knuckles.
Please don't enter more than once. It makes me cranky and no one likes a crankapotamous.
I'll announce the winner on Monday!
Thanks so much for celebrating my one year blogiversary with me!
.
.