** PLEASE READ **
There seems to be some confusion for those who have never visited here before and might be unfamiliar with navigating blogs. If you'd like to enter this giveaway, you must leave a comment in *this* post telling me what you would like to do on a date if money were no object. You can do this by clicking HERE which will bring you to the comment section. Scroll to the bottom and fill in the comment fields at the bottom of that page. Good luck!
As I sat down to write this post, it occurred to me that there may be some of you out there who are sick to death of me yapping about Harry Mason getting it on with my ears.
I bet Harry Mason has never had his way with your ears, has he? I didn't think so. Because if he had, you'd be hard pressed to keep quiet about your eargasms, no matter how many people begged, pleaded or threatened to make you walk barefoot on a hotel room carpet.
However, I concede that there are only so many times you can call something THE MOST MIND-BLOWINGLY AWESOMELY ORGASMIC THING IN THE HISTORY OF EVER before it starts to get old.
Except you, Anderson. Don't you fret. You'll never too get old for me, pumpkin.
So, rather than me constantly refreshing thesaurus.com in search of synonyms for awesome, let's try a different approach, shall we?
How about a fantasy?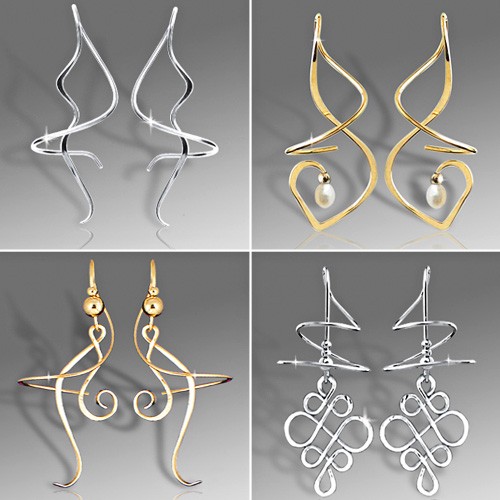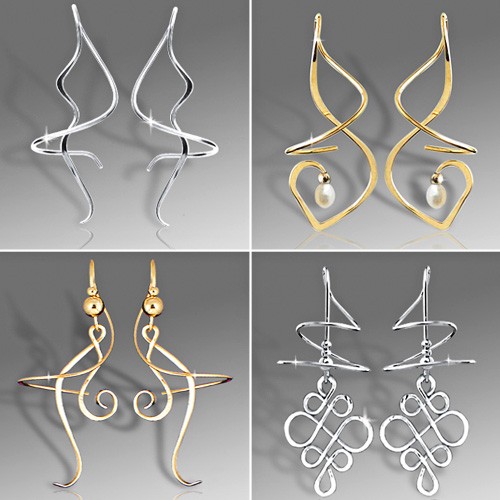 These are earspirals from Harry Mason's Romantic You collection. Brimming with blatant gorgeousness, right? I'm choosing one of these for when Anderson Cooper picks me up in his jet and whisks me away to Paris for our first date. We'll grab a baguette and some cheese and have a picnic at the top of the Eiffel Tower and he'll compliment me on my impecccable fashion sense and when the backpack he left behind to go downstairs for some creme brulee starts ringing, I'll answer his iPhone and yell FOR SHIT'S SAKE, WOLF! GO TO PAKISTAN YOURSELF! YOU'LL LOVE IT! IT'S TOTALLY FULL OF LIMELIGHT THERE! And then when Anderson comes back and wants to know why the inside of his iPhone is covered with melted brie, I'll shake my head and say something along the lines of Ugh. Technology. Can't live with it, can't shoot it in the head.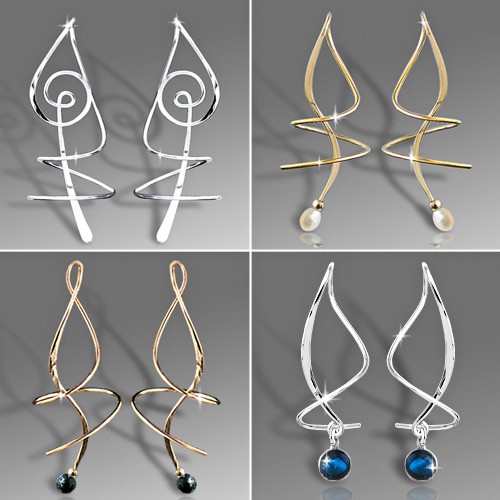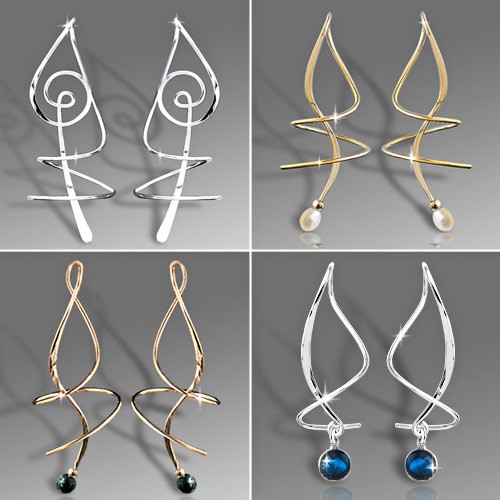 These are from Harry's Classic You collection. Aren't they just beautiful? Any of these would go perfectly with jeans, a black sued jacket and black high heeled boots, which is exactly what I will wear when Anderson picks me up on his motorcycle and takes me to the movies for our second date. We'll debate between The Switch where I think Jennifer Aniston gets impregnated by a drunk and/or gay turkey baster and I will ignore the whole symbolic nature of that theme in favor of The Expendables because watching men blow things up and spew testosterone everywhere in high def is HOT but then that stupid tiny little voice in the back of my head will whisper HOT FOR WHO? And then I'll get mad and tell that stupid tiny little voice to STOP READING PEREZ HILTON AND SHUT THE HELL UP ALREADY while stamping my high heel boot on the cement lobby floor, thereby twisting my ankle and crying a little. Then Anderson will take me to the hospital where I'll have to provide a urine sample because they always want a urine sample no matter what the hell is wrong with you even though last time I checked, my ankle was really far away from my bladder and as I go to the bathroom to pee, I'll throw his second iPhone into the toilet accidentally on purpose and he'll never hear Wolf's message about a political coup happening in Somalia because honestly, what's the big deal? Isn't there always a political coup happening in Somalia?
ANDERSON COULD TOTALLY PHONE IT IN, WOLF.
If he still had a phone.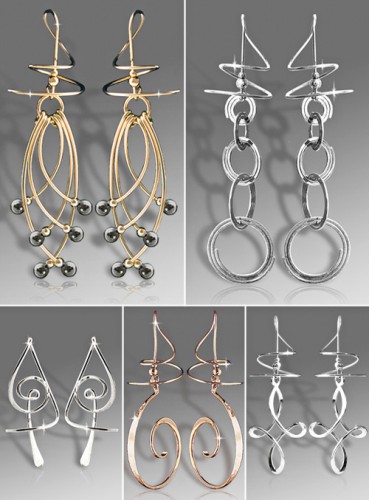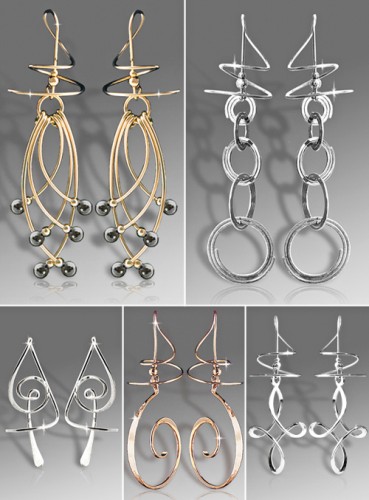 These beauties hail from Harry's Fun Fashion You collection. Have you ever seen anything more whimsical that didn't have the words "Cirque de" in front of it? Guess what? I own the top left pair! How lucky am I? I'll be wearing them when Anderson scoops me up on his bike and we trek north to Cape Cod where we'll spend our third date whale watching which will make us hungry so we'll go out for some local seafood except that I avoid all things seafood because I don't eat things that poop where they live except for crab but only if they're made into cakes because once you add in onions and garlic and Old Bay seasoning and dijon mustard and bread crumbs and fry it up in oil, who cares where it poops? And then Anderson will tell me a story about how once, his friend Wolf unwittingly ate bull's testicles while reporting from Peru and I'll respond by declaring that THE BEST STORY EVER because hello? A Wolf and a bull? That's a fable just dying to be born so we start bonding over various morals to be learned from eating a bull's genitalia and I discreetly chuck his third iPhone with fifty-seven flashing text messages from Wolf Blitzer into the ginormous bowl of shrimp gumbo sitting on the table behind me.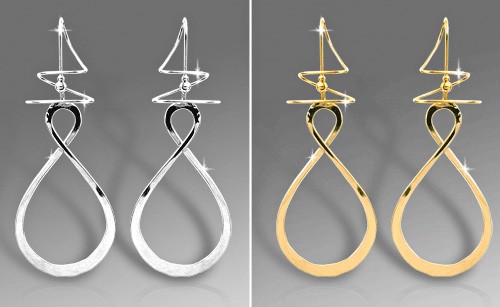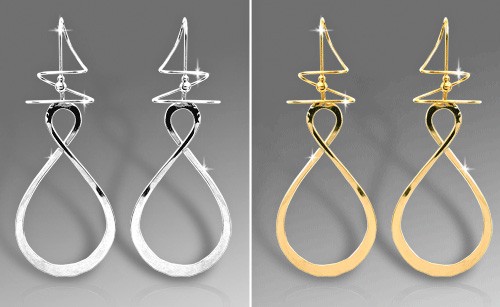 These are Harry's Spinfinity spirals. I can't stop staring at them! And don't you just love the name? I'll be wearing these babies when Anderson and I tee off at Pebble Beach for our fourth date and while he's trapped in the bunker on #6, I'll drive the cart with our clubs and personal belongings to the green and while Anderson examines his lie, I will text Mr. Blitzer back with Golfing, then marriage. Then baby carriage. Can't covr stck mrkt crash. Will wait for nxt 1. Dow Jones not invited to wdding. Buy me new iphone for wddng presnt. Keep losing them. CU nxt yr. Love, A.Coop. Then I'll fling the phone into the Pacific and Anderson will never have to see the text from Wolf asking WHAT THE F*CK ARE YOU TALKING ABOUT? ARE YOU DRUNK?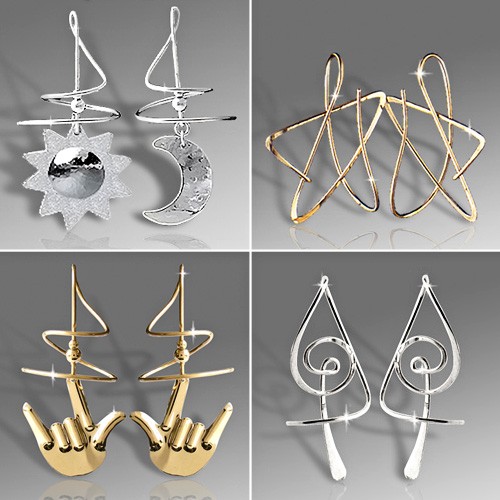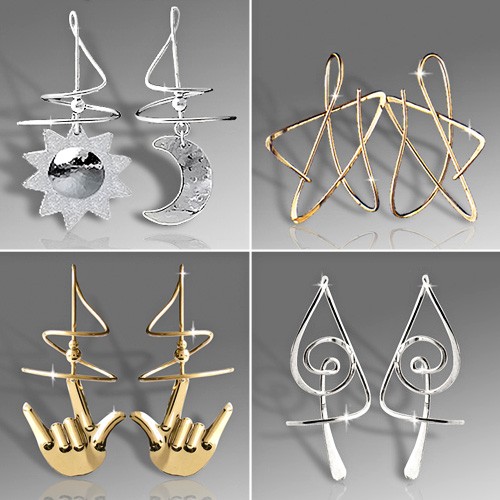 These are from Harry's Eclectic You collection. Can you say funky? I think any one of these will be the perfect accessory for when Anderson and I go parasailing in Hawaii on our honeymoon. I'll be The Funky Creative Junkie. They'll also look awesome with shorts and a tank top and flip flops which is what I'll wear when we go to the Apple store to buy Anderson his sixth iPhone because he lost his fifth one somewhere in the depths of the Kilauea volcano and the only reason Anderson even discovered that it was gone was because some guy yelled HEY, SHE JUST THREW YOUR PHONE INTO LAVA to Anderson but Anderson thought he said HEY, SHE MUST BLOW FOAM INTO JAVA because when he asked me "What'd that guy say?" that's what I told him. Then he waved to the guy and said NOT REALLY, SHE ONLY DRINKS HOT CHOCOLATE. This all happened right before Anderson reached for his iPhone and found the gaping hole in his pocket that I had ripped earlier that day and then he put two and two together and got five and declared his iPhone had accidentally fallen out of his shorts and I said That's what you get for buying cheap shitty clothing made in sweat shops in Indonesia, Anderson. Clue up.
It's not my fault Anderson sucks at math.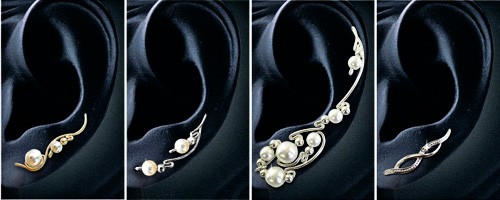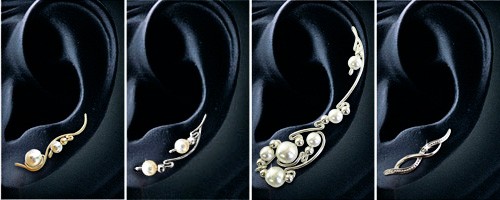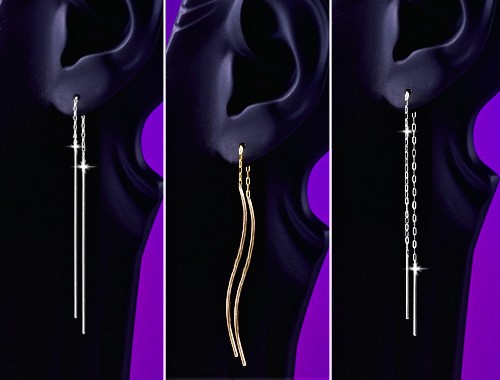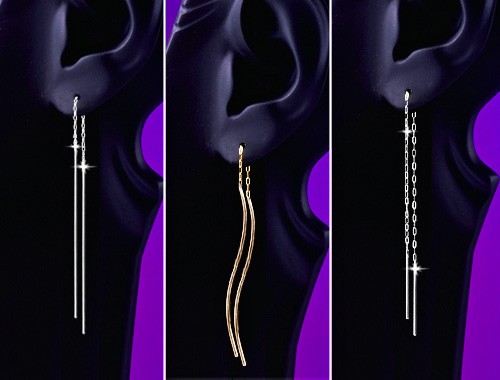 These are Harry's Ear Fancys and Threads. Totally innovative and cool and exactly what I intend to wear when Steve Jobs invites me to his house for dinner as a thank you for being instrumental in the surge of iPhone sales for the last fiscal quarter.
.
OK! On to the important stuff …
One person will win a $100 shopping spree to Harry Mason Designer Jewelry, at his online shop or at his Pier 39 store in San Francisco! Now you too can have eargasms when you go out with your favorite CNN news anchor! Hey, maybe we can double? But please, don't choose Wolf Blitzer because if I have to spend the entire night watching him shift his weight from his right foot to his left while listening to his monotone voice, I can't guarantee that I won't wind up yelling  FOR THE LOVE OF GOD, JUST DRY ALREADY, PAINT! I MEAN, WOLF! WHATEVER!


While your browsing all the beautiful goodness at Harry's shop, don't forget to use his wishlist feature. Comes in very handy for those of us born with the attention span of an ADHD chipmunk.


*** HOLY SHIT, GUESS WHAT? ***


If you do not win this giveaway, you do not walk away 'gasmless. Harry is offering all who enter a $25 shopping spree with any $50 purchase. After the winner is announced on this blog, simply email Harry at harrymason @ harrymason. com (delete all the spaces, please!) and include a copy/paste of the comment you entered in this post. Make sure to put "BIG O" in the subject line so he knows you're not spam. Spam don't get eargasms. It's a law somewhere. I forget where.

The nits and grits:
To enter, leave a comment in this post and tell me what you would like to do on a date if money were no object. Fly to Italy for dinner? Cruise around the world three times? Bungee jump off the Golden Gate Bridge? If I had my druthers, Nate and I would have dinner with Damon Lindelof and Carlton Cuse and after dessert, we'd make them re-shoot the series finale of Lost so that it actually made sense to normal people. But seeing as how Nate confiscated my druthers and hid them somewhere near the vacuum cleaner, this will never happen.
Anyone 18 or older can enter. If you're old enough to fight for your country, you're old enough to have an eargasm.
The shopping spree expires thirty days from winner notification.
Winner must confirm notification within 48 hours or I'll have to choose an alternate. That's just chock full of UGH.
If you have trouble setting limits, like me, you can spend more than $100 and simply apply the $100 to your total due.
No entries after midnight eastern time on Wednesday, August 25, because that's when I turn into a pumpkin and Nate gets the chance eat vegetarian.
I will use Random.org to choose the winner! Don't everyone cheer at once.
One entry per person, please! Your comment might go into moderation for a bit but it will show up! I promise. You can't see it, but I'm pinky swearing you.
I'll announce the winner on Thursday! Or Friday!
That's it!
Good luck!
.
.