Just thought I'd clarify that for anyone wondering why I thought it necessary to dedicate an entire day to celebrating hooha hygiene. As for that big collective WHEW I just heard out there in cyberspace? You're welcome!
This is Happy SITS Day, not to be confused with Happy SITZ Day, which I don't think has been invented yet. At least, I hope not. Because otherwise? Someone's got way too much time on their hands and needs a hobby.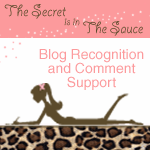 SITS is an acronym for Secret is in the Sauce, a site I've belonged to for over 1½ years and through which I've found many wonderful blogs. Today's my day to be featured! Which just goes to prove that if you pester someone long enough, they will eventually get so sick of you that they will agree to anything just to shut you up.
Kidding!
But only as it pertains to SITS. Hear that, Anderson Cooper?
Hi SITS visitors! I tried to choose three posts that give you a good insight as to how my brain works and lucky for you, I decided not to pick from my extensive collection of MY BLADDER SUCKS posts or I NAME MY COLD SORES BECAUSE THEY'RE BIG AND I'M WEIRD posts because I didn't want to send you running and screaming for your mama right off the bat. But if you ever want to read about my neon orange pee that can be seen from space or about hideous Bernice who copped a squat on my lip and who, coincidentally, could also be seen from space, just let me know and I'll hook you up. In the meantime, here you go:
I've got an extra one for those of you who don't mind a little colorful language and some fashion commentary: Dear stupid people everywhere, especially in parking lots.
Oh, OK. FINE. For those of you who really want to be grossed out, meet Bernice and her kin. But don't say I didn't warn you.
To all you mamas out there whose offspring are uncharacteristically crying out for you at this very moment … they made me do it.
.
.
.
.